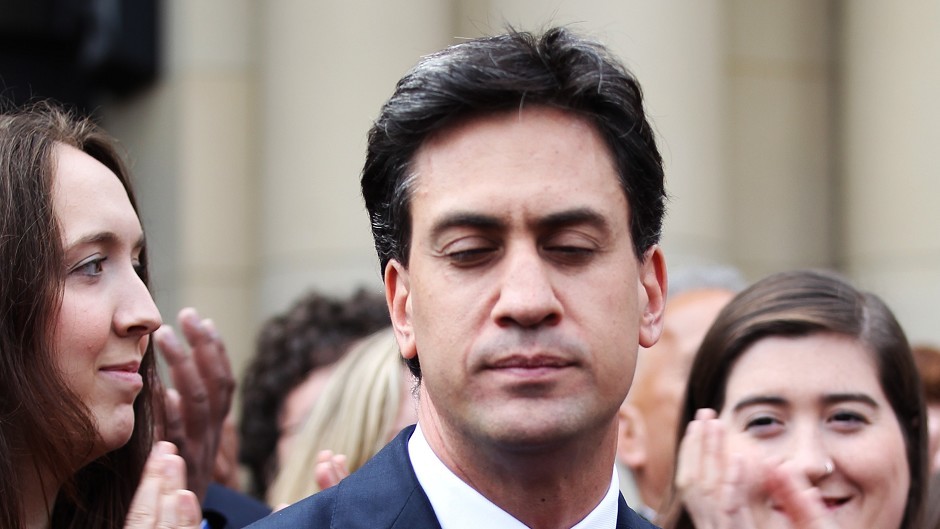 Scottish Labour has suffered another setback after a new opinion poll showed only 27% of people intend to vote for the party in the general election next year.
A survey carried out by YouGov showed 43% of 1,078 people questioned between October 27-30 would be voting for the SNP. The results suggest that Labour could be on course to lose 30 of its 40 MPs in Scotland.
Only 22% of Scots feel the Scottish Labour Party represents the interests of Scotland well, while 65% say the party represents the interests of Scotland badly.
The poll showed that just 15% of people said they trusted UK Labour leader Ed Miliband while 80% said they did not.
By contrast, 19% said they trusted Prime Minister David Cameron while 77% said they did not.
The poll showed 48% of people said they trusted Scotland's first minister in-waiting Nicola Sturgeon and 47% said they did not.
The survey, carried out after Johann Lamont's shock resignation triggered a leadership battle, showed 15% of respondents said they intend to vote for the Conservatives, 4% for the Liberal Democrats and 11% for another unspecified parties.
YouGov said there has been 12 point swing from Labour to the SNP since June.
The poll follows hot on the heels of a Ipsos Mori survey which suggested the SNP are poised to win 54 of Scotland's 59 Westminster seats.
It showed Labour would secure 23% of the vote in its Scottish heartland if the election was held today, cutting its representation from 40 to four seats.
Scottish Labour has tried to put to put a brave face on the disastrous poll ratings.
A party spokesman said: "The only poll that counts is the one on May 7 next year.
"This poll makes clear that every vote for the SNP helps elect a Tory government.
"No Scot wants to jump into bed with the SNP and wake up with the Tories."
But Dunfermline and West Fife Labour MP Thomas Doherty, shadow deputy leader of the House of Commons, claimed the party was in a "dreadful position".
Speaking on Radio 4, he said: "We have to be honest about yourselves, we have very low esteem with the electorate.
"The electorate looks at us and has no idea what our policies are.
"We have a moribund party in Scotland that seems to think infighting is more important than campaigning and we have a membership that is aging and inactive.
"We can return to the grown-up party that wants to be in government or we can self-indulge like a throwback to the 1980s and watch our party implode, the SNP win again, the Tories win again and have another referendum."
Scottish Labour leadership candidate Jim Murphy has vowed to unite the left and right factions within the party and turn it back into an election-winning force.
The East Renfrewshire MP, who is a right of centre politician who backed David Miliband for UK party leader, has promised to bring Scotland "back together" after the divisive independence referendum campaign.
Mr Murphy is competing in the party leadership race against Lothians MSPs Neil Findlay and Sarah Boyack after the shock resignation of Johann Lamont last week.
The YouGov poll showed that 24% of respondents said they had trust in Mr Murphy and 54% said they did not trust him.
Deputy Scottish leader Anas Sarwar resigned from his post last night.
He said: "I have come to a decision I believe is in the best interest of the Scottish Labour Party.
"It's my intention to hand over the leadership to a new team on December 13.
"While remaining in post until that time as interim leader, I think it is also right that we have a concurrent leadership and deputy leadership election."
North-east Labour MSPs Jenny Marra and Lewis Macdonald, as well as Dumbarton MSP Jackie Baillie, have ruled themselves out of the deputy leadership race.
Elgin-raised Kezia Dugdale, a Lothians MSP, has indicated she may be interested in the role.
Reacting to the YouGov survey, First Minister Alex Salmond said: "This is another extremely encouraging poll for the SNP, and we are working hard to achieve a substantial group of MPs to hold the Westminster parties to account and ensure that they deliver on their Vow of extensive new powers for Scotland.
"Nicola Sturgeon has by far the strongest trust ratings – double those of Jim Murphy – which is excellent as she looks forward to becoming party leader and first Minister.
"It is another disastrous poll for Labour and Ed Miliband – who astonishingly is even less popular in Scotland than a Tory Prime Minister."
Politicians have until 2pm today to decide whether they want to stand for the leadership position and nominations close on Tuesday at 2pm.
People have until Monday to declare interest in the deputy leadership. Nominations close on Tuesday.