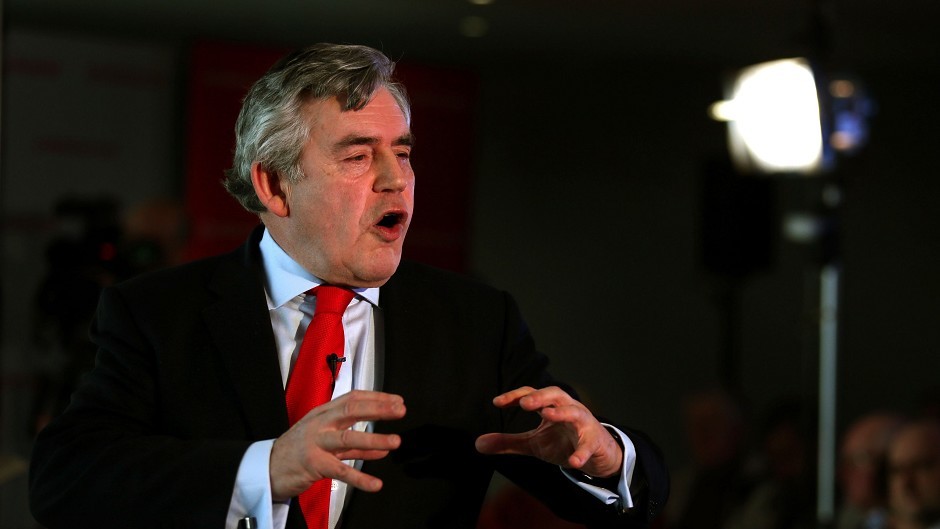 Gordon Brown was parachuted in to try to bolster Labour's battle to save its Scottish seats yesterday as the party pledged to spend an extra £800million north of the border.
The former prime minister, who is stepping down as an MP after 32 years, described the vote on May 7 as the "the social justice election" as he joined the campaign trail in Glasgow.
Labour will hope Mr Brown can repeat his game-changing intervention in last year's independence referendum, amid polls showing the party is poised to lose all but a handful of its seats in Scotland to the SNP in a historic political realignment.
Mr Brown said: "This election is not only about constitutional change but about the social changes and the economic changes that are urgently needed to start the day after the election – the desperate need to create more jobs, improve the NHS, tackle the scandal of poverty in our midst and reduce inequality now.
"So while others want to talk about coalitions, deals, pacts, hung parliaments, confidence and supply motions – insider Westminster talk – we will spend all our time discussing with the people what really matters: poverty, unemployment, deprivation, bad housing, inequality and the neglect of the NHS."
The former Kirkcaldy and Cowdenbeath MP claimed the SNP had "zero plans" for spending and announced a Labour pledge of an extra £800million made up from money from a bank bonus tax, mansion tax and reforms to corporation tax.
"As a result of Labour's bankers' bonus tax, we will guarantee a job or training for every young person out of work for a year – and help for every person out of work for two years," he said
"Action targeted to support the NHS. Action for ending the bedroom tax and to create an anti-poverty fund to reduce the need for food banks.
"And action to help restore college cuts and college places, help with grants for students and help for the out-of-education teenagers who need a better chance."
Stewart Hosie, the SNP's Treasury spokesman, said: "This is a ludicrous claim from Gordon Brown, which no one in Scotland will believe – and the fact Labour are pinning their hopes on someone who has now retired from frontline politics speaks volumes about their desperation."