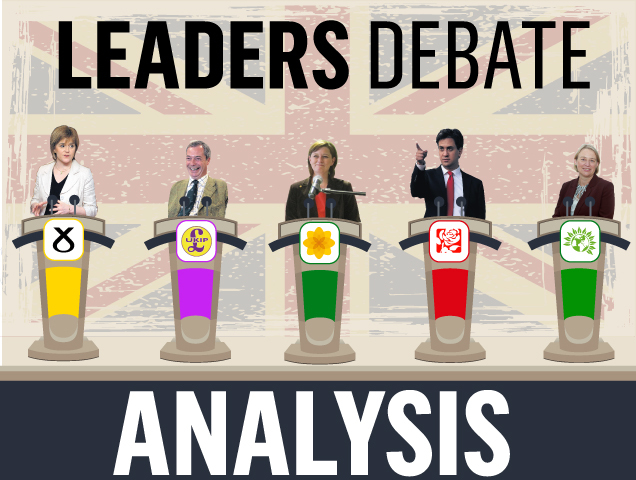 After the opening statements from each of the five party leaders, UKIP leader Nigel Farage attracted the biggest reaction on social media.
Plaid's Leanne Wood started this evening's debate with her opening statement, saying people are now seeing through the "austerity myth"
Ukip's Nigel Farage is second, he says it's time to "take back control of our country" adding "We'll tell it like it is."
Ed Miliband uses his opening statement to say he'll "always put working families first because that's how we succeed as a country".
The SNP's Nicola Sturgeon, says that a vote for her party is a "vote to make Scotland's voice heard" as well as more progressive politics at Westminster for everyone.
Last up to make an opening statement is Green party leader Natalie Bennett, who says that her party are the "real challengers".
Nigel Farage saw the biggest spike in Twitter chatter as the debate began.
The UKIP leader was being mentioned more than 238 times a minute as he finished his opening remarks, higher than Ed Miliband at 123 tweets per minute (tpm), Nicola Sturgeon at 172 tpm, Natalie Bennett at 70 tpm and Leanne Wood at 37 tpm.