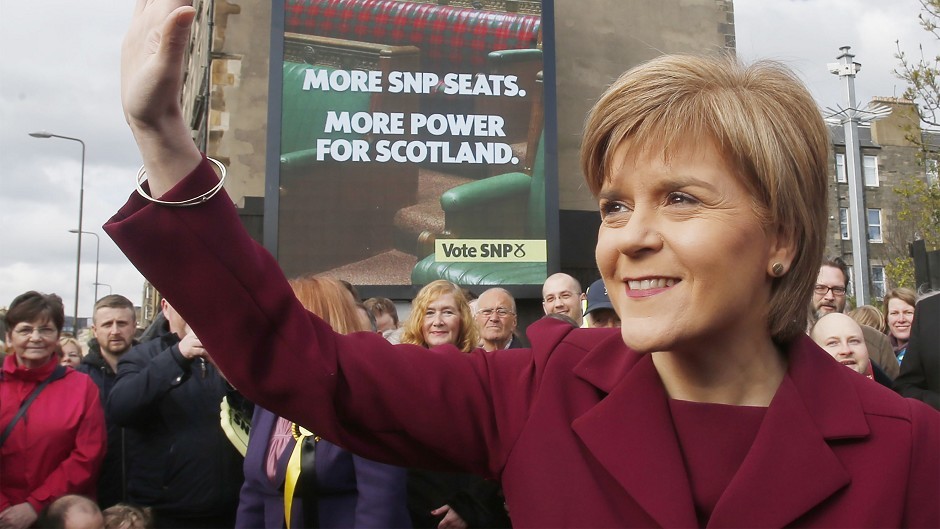 Nicola Sturgeon has seized on Ed Miliband's refusal to work with the SNP to keep out a Tory government – claiming it would be the "final nail in the coffin" of Scottish Labour.
The first minister accused the Labour leader of having "lost the plot" as she visited Dundee as part of a helicopter tour of key seats.
Mr Miliband, who was campaigning north of the border in Glasgow yesterday, had made his strongest-worded declaration to date that he would not consider any kind of deal with the SNP after Thursday's election.
The Conservatives have repeatedly highlighted the possibility of the Nationalists holding sway over a Labour government in an attempt to convince voters south of the border to back the Tories.
But during a TV grilling on Thursday night, Mr Miliband said: "If the price of a Labour government is a coalition or a deal with the SNP, it is not going to happen."
Ms Sturgeon said the remarks would drive more voters to the SNP.
She said: "If Ed Miliband is really saying he would rather have a Tory government than work with the SNP for more progressive politics, then it's final proof that Labour has lost the plot.
"It will be the final nail in the coffin of Scottish Labour, and I suspect Labour in other parts of the UK, and it makes it all the more important that we have a big team of SNP MPs because we will need them to protect Scotland from the Tories because clearly Ed Miliband is not prepared to do it."
With the polls saying Labour faces near wipeout in Scotland, Mr Miliband was due to urge Scots to reconnect with their Labour-supporting history.
He said: "Remember our great leaders, from Keir Hardie to Jennie Lee, John Smith to Donald Dewar. What would they want today?
"We could be on the verge of electing a Labour government. They would want to be part of it."
He added: "Nationalism never built a school. It never lifted people out of poverty. It never created a welfare state that healed the sick and protected our most vulnerable.
"It is Labour values, Labour ideas and the determination of people across Scotland that has built this country to what it is today."