 Prime Minister David Cameron has been challenged to explain low levels of financial support for rural communities as he embarks on a two-day visit to Scotland.
The Conservative leader will arrive in the west of Scotland today as he seeks to play a greater role in the battle against independence.
On the eve of his visit, north-east SNP MP Eilidh Whiteford quizzed him on the distribution of EU funds to support rural areas.
She also raised reports that the coalition paid almost £50,000 of taxpayers money for an independence survey in January that it has never published.
At prime minister's questions in Westminster yesterday, the Banff and Buchan MP said: "When the prime minister goes up to Scotland later this week, will he explain to our agricultural producers and rural communities why by 2019 we will be receiving the lowest level of support per hectare not just of any country in the UK, but of any country in the whole EU?
"Perhaps that explains why he does not want to publish his secret poll on support for independence."
Mr Cameron responded: "On my visit to Scotland I will be explaining how Scotland is better off inside the United Kingdom.
"We have all the negotiating power of the United Kingdom around the table to get a good deal for Scotland, whereas of course an independent Scotland would have to queue up behind other countries to get back into the European Union.
"Specifically on agriculture, because of the hard work of my right honourable friend the agriculture secretary, we are ensuring that there will be extra support for Scottish farmers, which is absolutely in line with what the Scottish Government have been asking for."
Deputy First Minister Nicola Sturgeon claimed last night that the prime minister's visit north was part of "a wholesale Tory takeover the No campaign" that would "prove disastrous for them".
Speaking before his visit, Mr Cameron said: "I have been heartened to see so many people finding their voice.
"People from all walks of life and all parts of the UK know, as I know, that we are all better together.
"Scotland puts the great into Great Britain. Together we are a United Kingdom with a united future."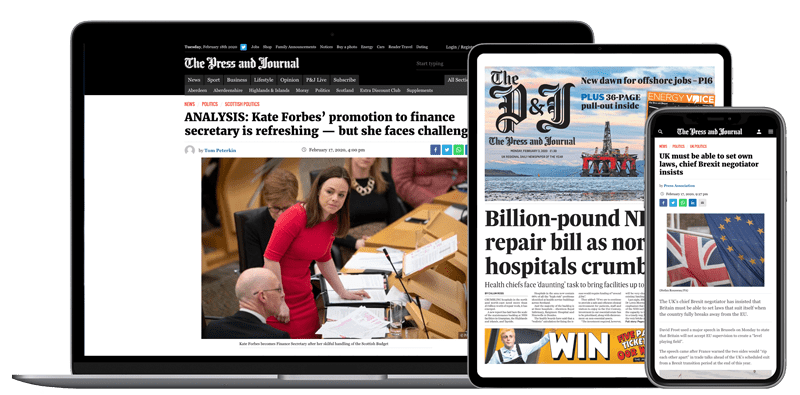 Help support quality local journalism … become a digital subscriber to The Press and Journal
For as little as £5.99 a month you can access all of our content, including Premium articles.
Subscribe