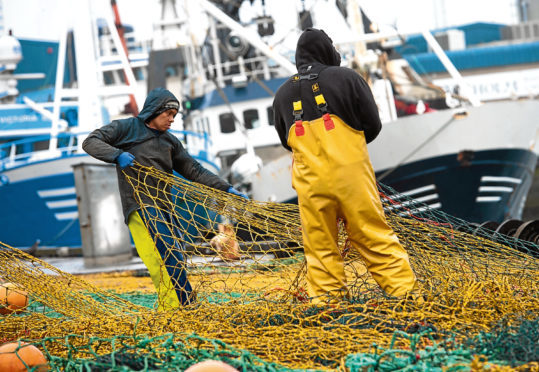 Michael Gove appealed for Tory rebels and furious fishermen to keep their "eyes on the prize" yesterday as he promised full fisheries control by the end of 2020.
The under fire UK environment secretary was warned of "palpable anger" in fishing communities over a Brexit transition deal which will keep the UK in the Common Fisheries Policy (CFP) for an extra 21-months, but he insisted it was a "necessary step".
Clashes in the Commons immediately followed showdown talks between Prime Minister Theresa May and Scottish Conservative MPs, who had signalled on Monday that they could bring down her government if the final deal did not deliver on fishing promises.
Fishing sector's fury over UK Government's Brexit 'betrayal'
But the Tory MPs cooled their public denouncements of the interim agreement following the Downing Street meeting, which was understood to have lasted just 10 minutes.
Discontent in the ranks remained, however, and today Aberdeen South representative Ross Thomson was due to join prominent Eurosceptic MP Jacob Rees Mogg in a fish-dumping protest from a trawler in the Thames.
In Holyrood, SNP Environment Secretary Fergus Ewing branded the interim deal a "very clear betrayal" that would leave Britain as "rule takers rather than rule makers" in fisheries talks, while Highland MSP Kate Forbes said it was "unforgivable".
Mr Gove, who had pledged little over a week ago that the UK would leave the CFP in March 2019, was grilled on the U-turn by Orkney and Shetland MP Alistair Carmichael at Westminster.
"The mood in fishing communities today is one of palpable anger. This is not what they were promised," said the Liberal Democrat, a former Scottish secretary.
"The basic question that the secretary of state has to answer today is: if the government can let us down like this on the deal for the transitional period, how do we know they will not do it again when it comes to the final deal?
"When it comes to it, will they trade away access to waters for access to markets or anything else?"
Mr Gove insisted that the UK Government had "pressed hard" for an early exit from the CFP, and said it had secured "additional reassurance" that the UK's share of quotas will not change during the implementation period.
"In December 2020 we will be negotiating fishing opportunities as a third country and independent coastal state—deciding who can access our waters and on what terms for the first time in over 40 years," he said.
"It is critical that all of us, in the interests of the whole nation, keep our eyes on that prize."
And Mr Gove evoked his north-east-based family as he said: "As someone whose father was a fish merchant and whose grandparents went to sea to fish, I completely understand how fishing communities feel about the situation at the moment, and I share their disappointment."
Responding to questions from unhappy Moray MP Douglas Ross, he added: "I think people not just in Buckie and Portsoy but across the north-east of Scotland—indeed, across the United Kingdom—will be disappointed that the proposal we sought to ensure would apply for 2019 does not apply for that year.
"However, it is important to recognise that this is a 12-month additional extension to the maintenance of the EU acquis and that we accept that the greater prize is available only if we ensure that we leave the common fisheries policy, take back control and make it absolutely clear to other countries that access and quotas will be in our hands."
The SNP's Pete Wishart said: "What a load of codswallop from a secretary of state who is all out at sea on this issue. The government will never, ever again be trusted by Scottish fishermen.
"He drew a red line with the leader of the Scottish Conservatives, but that red line has gone—hook, line and sinker."
Mrs May was said to have been "receptive" to the appeals from Scottish Tory MPs as they sought assurances over the final Brexit agreement.
Speaking afterwards, Banff and Buchan MP David Duguid said: "We made clear to the prime minister our disappointment at the outcome of the talks and the length of the transition period for the fishing industry.
"However, we must not lose sight of the fact that we are committed to coming out of the EU and out of the Common Fisheries Policy."
He added: "There is no doubt yesterday was a setback, but there is still light at the end of the tunnel, and a huge prize to be won."
Trust has been 'shaken'
Fishing leaders' trust in the UK Government has been "shaken" and the controversial interim deal does "not bode well" for the industry's post-Brexit future, an expert has warned.
Aberdeen University lecturer Craig McAngus is currently carrying out research on the prospects for UK fisheries following the country's departure from the EU.
Reacting to this week's announcement that Britain would remain in the Common Fisheries Policy during the transition, said he was "not surprised" and that UK ministers had been "optimistic" when they stated that Britain would be able to quit it in March 2019.
Mr McAngus said: "When Michael Gove made that statement I thought to myself 'they're promising a lot here, maybe it would be wiser to promise a little bit less'. And they have not delivered on it."
"That will not bode well for future relations. Maybe trust will have to be rebuilt there. I think the trust of the industry towards the powers that be has been shaken.
"It remains to be seen over the next wee while if the UK Government can claw that back."
He added: "The UK Government and the devolved governments, especially the Scottish Government, regardless of what sort of deal it is, will have to put in place a governance structure that builds on what's there at the moment, and will need to consult more closely with the fishing industry.
"If you look at Norway and Iceland, one of the keys to their stability is the trust and cooperation that exists between industry and government.
"If the UK Government can't secure a good deal that could sour relations. If they lose the trust of the industry, that could cause problems going forward."