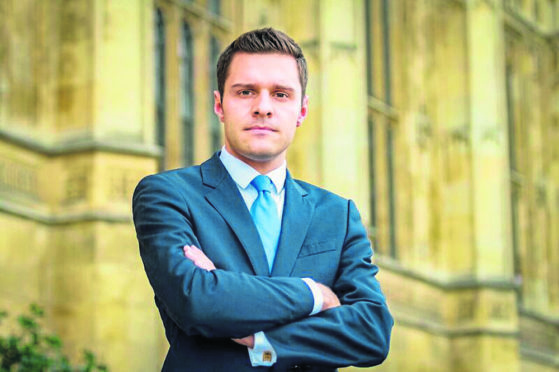 Aberdeen South MP Ross Thomson has called for tougher punishments for thieves who steal and harm dogs.
The Conservative wants to toughen up existing legislation to make it a serious criminal offence that recognises the status and importance that pets have within families.
Recent findings published by Direct Line Pet Insurance, using UK police statistics, have shown that certain types of dog are stolen for breeding, selling on and even illegal fighting.
North-east MP Ross Thomson calls for tighter laws around puppy dealing in Scotland
Mr Thomson has campaigned previously on animal welfare issues, persuading the UK Government to look at changes to laws around the use of electric shock collars.
He will now call for action from government to toughen up the laws on pet theft via a ten-minute rule bill to be proposed in the Commons today, and Mr Thomson will also be calling on the Scottish Parliament to act.
Last night, he said: "For anyone unfortunate enough to have experienced pet theft, it can be truly heart-breaking, distressing and devastating.
"The theft of a pet should be recognised as a serious, criminal and punishable offence that recognises the status the animal has within their family.
"I want to see tougher sentencing guidelines for courts to deal with those that are caught. I hope that the UK Government will support this bill."
Meanwhile, Holyrood's public audit and post-legislative scrutiny committee is to examine the impact of the Control of Dogs (Scotland) Act 2010.
The act aimed to ensure dogs are kept under control, but recent figures show the number of people who received treatment for dog bites rose from 1,939 in 2015 to 2,027 in 2016.
The committee will look at whether councils are carrying out duties such as serving dog control notices on those with unruly pets.