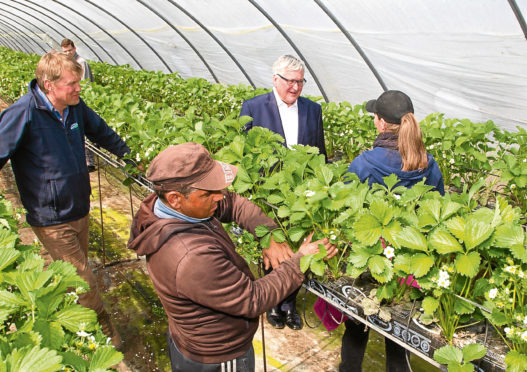 The UK Government has moved to try to avert a labour crisis facing fruit and vegetable growers by allowing the sector to recruit up to 2,500 migrant workers a year.
Under the plans, non-EU nationals will be able to work on farms for six months before returning home, but critics said it "falls far short" of requirements.
Fruit and vegetable farms are heavily reliant on seasonal workers from central and eastern Europe and fears have been rising that a shortage of staff could turn into a disaster after Brexit.
Amid stories of unpicked crops being left to rot, UK ministers have been under sustained pressure to relax the visa rules.
Yesterday Home Secretary Sajid Javid confirmed that farmers will be able to recruit up to 2,500 migrants a year under a new seasonal work scheme, which will start in spring next year and run until the end of December 2020.
He said: "British farmers are vital to the UK's economy – and the government will look to support them in any way we can.
"This pilot will ensure farmers have access to the seasonal labour they need to remain productive and profitable during busy times of the year."
William Houston, from farming collective Angus Growers, expects to be short of at least 600 fruit-pickers again next year.
He said while "at least it's a start", the small number of visas available will "not achieve anything significant for the industry".
Mr Houston added: "It's kind of crazy because they've obviously done the work to calculate what's needed to allow people to come here and enable them to work and everything else.
"But then they've cut short on actually making it worthwhile because there aren't enough people."
Under the last such programme in the UK, fruit and vegetable growers were allowed to employ migrant workers from Bulgaria and Romania for up to six months at a time, but that initiative was closed in 2013.
A Scottish Government spokesman said it was disappointing that the UK Government had not been consulted it on the proposals.
He added: "With only 2,500 workers for the whole of the UK, this pilot falls far short of meeting the sector's needs and fails to recognise the need for an economy-wide solution."