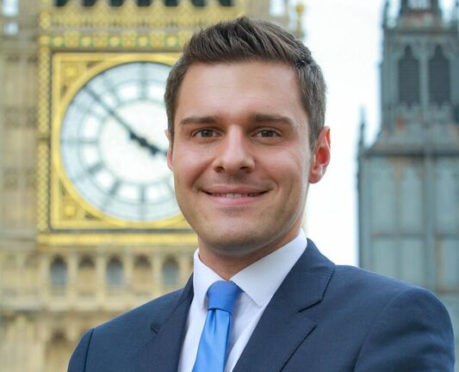 Tory MP Ross Thomson has faced calls to resign following allegations he engaged in "sexual touching" at an exclusive Westminster bar.
The Aberdeen South MP was targeted on Tuesday with a banner outside his constituency office in Holburn Street which read "Ross Thomson MP resign now: Aberdeen South Useless Gype".
Mr Thomson said the banner, which has since been removed, undermined efforts to create a "safe, open and accessible place" for the public.
He said: "I'm obviously at Westminster so the only people at the constituency office are my staff and any constituents who go in.
"It's a place of work, and it's not a very pleasant atmosphere for them."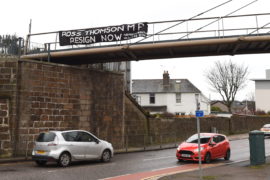 He added that he had been in touch with his Aberdeen office and his staff "have had to deal with abuse and harassment before".
A Scottish Conservative party source blamed "hard-line nationalists" for the banner.
An online petition has also been launched demanding Mr Thomson consider his position.
The petition currently has just over 650 signatures, but under parliamentary rules 10,000 signatures are needed for a response from the Government.
The banner and petition come after a difficult week for the MP in which he was accused of inappropriate behaviour at Strangers' Bar on the parliamentary estate.
Mr Thomson has denied the allegations but it is understood that an official complaint has been lodged with the parliamentary commissioner for standards.
Asked if he had been contacted by the the commissioner, Mr Thomson referred to his statement and said: "An allegation has been made. I can't say anything else."
It was reported on Tuesday that CCTV footage from Strangers' Bar recorded on the night of the incident could be released under General Data Protection Regulation (GDPR) rules.
Parliamentary authorities are believed to have received a request from an individual who was in the bar at the time for the footage.
However, if released, the CCTV would be unlikely to provide any clarity on the incident as under GDPR rules only the individual who made the request would be visible and everyone else would be blurred out.