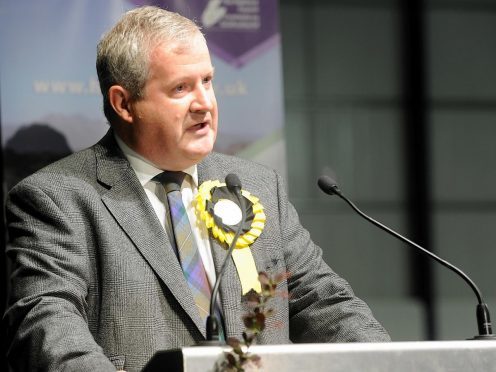 SNP Westminster leader Ian Blackford has said Theresa May is "not fit for office" due to her conduct throughout the Brexit process.
Mr Blackford also questioned the prime minister's sanity after she reaffirmed that a no-deal Brexit remained on the table.
The comments come a day after Mr Blackford was reprimanded in the Commons by Speaker John Bercow for claiming that the prime minister was a "liar".
The SNP Westminster leader was unhappy that Mrs May had said the Government had carried out an economic analysis of her Brexit deal.
He subsequently withdrew the comment, which is not in keeping with acceptable parliamentary language, but repeated the accusation in an interview with the Press and Journal following Prime Minister's Questions on Wednesday.
The Ross, Skye and Lochaber MP said: "Under the rules of this place I had to make it clear that I was saying that the PM was perhaps inadvertently misleading the House of Commons, but I don't think a prime minister that behaves in such a way has the characteristics of a person that is fit for the office.
"We should not be facing a binary choice, crashing out of the EU with no-deal is an enormous act of self harm but the prime minister's deal in itself is extremely bad news for jobs and prosperity and it's something that we will oppose.
"I would seriously question her sanity if she thinks that we should be contemplating a no-deal."
He added the SNP would be working cross-party to "find a mechanism" to block a no-deal Brexit and allow "parliament to take back control" of the process.
Pushed on what the SNP would do in the event that the UK was heading towards the exit door without an agreement, he said First Minister Nicola Sturgeon would make an announcement "over the coming weeks".
He added: "I think she's already given an indication but you can rest assured that we recognise that not just the press corps but the people of Scotland expect us to give a determination as to where we're going to be going."