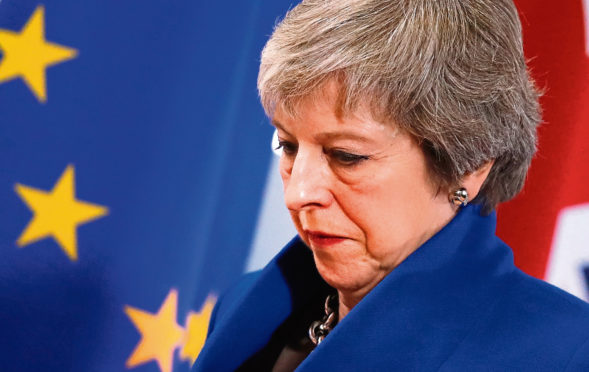 Theresa May has held meetings with leading Tory Remainers amid speculation that there could be further defections to the Pro-EU "Independent Group".
Former ministers Justine Greening and Phillip Lee were seen entering Downing Street on Thursday after they accused the prime minister of pandering to Brexiteers.
Ms Greening said she had considered joining the three MPs who quit the Conservative Party on Wednesday – and would do so if there was a no-deal Brexit.
A senior Tory source told the Press and Journal that between "between five and 10" MPs on the payroll could quit next week if the "meaningful vote" on the prime minister's Brexit deal was not held in the Commons.
They said: "There could potentially be 30 resignations from PPS to Cabinet minister next week but realistically between five and 10 may go if the meaningful vote is not brought back."
Sarah Wollaston, one of the Tories who quit to join the Independent Group (TIG), suggested a third of the Cabinet could walk out if Mrs May steers the country towards a no-deal Brexit.
"I know that there are many colleagues on my side who will be watching carefully and expecting Theresa May to be certain that she is not going to take us out on a no-deal Brexit," Dr Wollaston told BBC Radio 4's Today programme.
"Certainly I think that a third of the Cabinet, I'm pretty clear, would walk if they were looking at a no-deal Brexit."
Scottish Secretary David Mundell, who has raised serious concerns over a no-deal Brexit, yesterday ruled out joining TIG but failed to say whether he would quit if the UK started heading toward the exit door without an agreement.
At an event in Edinburgh celebrating 20 years of devolution, he said: "I'm most certainly not leaving the Conservative Party."
"I'm disappointed that colleagues have chosen to leave."
Pressed further if he would resign his ministerial role in the event of a no-deal, he said he would "do everything I can, and whatever I deem necessary, to prevent a no-deal Brexit coming about" but would not be setting "strict parameters on what that may or may not be".
Mr Mundell said he still believes a deal and an orderly Brexit is achievable.