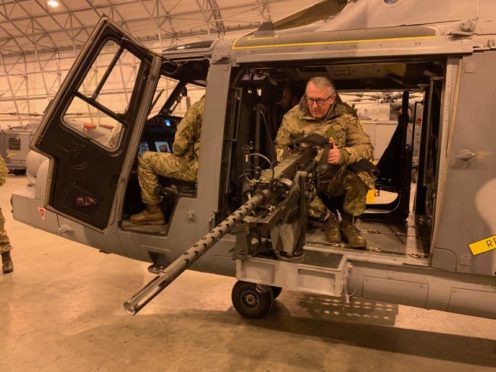 A Highlands MP has paid tribute to the Royal Marines after trading Westminster for one of their elite training bases in the Arctic.
Jamie Stone spent five days with the marines battling subzero temperatures at their facility in Bardufoss, Norway as part of the armed forces parliamentary scheme.
The scheme was founded by Sir Neil Thorne, a former Tory MP, in 1988 to give parliamentarians a clearer idea of what life is like for service personnel.
Mr Stone, who journeyed back from the base on Friday with eight other MPs, said the experience had opened his eyes to the "harsh realities of being on the front line".
The action man MP said: "The trip was really interesting but it was tough, a hell of a struggle, I've never been so tired.
"We were in uniform and we were embedded with our troops, we ate with them, slept in the same tents and accompanied them on training, that's the only way you can get a real taste for what they do, you can't just jet in and out in a suit.
"We really got on with the lads and women who worked up there and we made a mental note of what they were saying, it means when we stand up in the House of Commons we know what they need. It also means, God-forbid if were to ever go to war we would take that vote extremely seriously having now met those serving."
Several hundred troops are stationed at the base and Mr Stone said that all were "prepared and ready to go", especially while tensions with Russia remain strained.
Despite shivering under the Northern Lights in their Second World War vintage canvas tents, the 64-year-old Cairthness MP explained Brexit was never far from conversation.
He said: "One of the soldiers threw a hand grenade of a question and asked us what was going on with Brexit, it very quickly turned back to Westminster with MPs arguing their position but it was -21C and our backsides were frozen and the ridiculousness of the situation all made us laugh.
"What a week to be away though, with the defections from Labour and Tory MPs' phones were buzzing with updates and soldiers were coming over asking if we'd heard the latest news.
"It was a truly inspirational experience and we won't forget it."