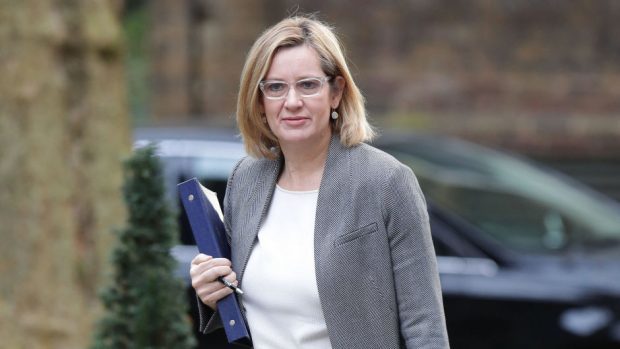 Amber Rudd has slammed the Scottish Government's decision to delay the full devolution of benefit powers from Westminster to Holyrood.
Social Security Secretary Shirley-Anne Somerville indicated last week that full control over 11 social security benefits would be maintained by the Department for Work and Pensions (DWP) until Social Security Scotland had the capability to administer them in 2024.
In a letter, seen by the Press and Journal, the work and pensions secretary accused ministers in Holyrood of "underestimating the task".
She said: "My department has worked tirelessly to help the Scottish Government to take executive competence for these benefits but has thus far been supplied a lack of detail for Scottish proposals for delivering policies for which they are now assuming responsibility.
"Despite promises from the Scottish Government that it would be fully delivering these benefits by the end of the Scottish Parliament in 2021, the Scottish Government announced they expect it to take up until at least 2024 for all cases to be fully transferred.
---
>> Keep up to date with the latest news with The P&J newsletter
---
"This is down to Scottish Government's slow development of the detail of their approach to the benefits being devolved and underestimating the task at hand of both building their own capability to deliver through their social security agency and transferring significant caseloads in a safe and secure manner."
Gordon Tory MP Colin Clark said Ms Rudd's letter was a "damning assessment" of the SNP's performance, he said: "SNP ministers, MPs and MSPs have spent years complaining at every turn about the UK's handling of welfare and social security.
"They have done so in very emotive terms – yet when given the chance to take control, they have been found wanting."
A spokesman for Ms Somerville said the Scottish Government would "take no lectures" from Ms Rudd.
They said: "If the Tories want to do something helpful, they could confirm when they will agree to deliver split payments on Universal Credit as we have requested – and explain why they are delaying our efforts to completely remove the bedroom tax in Scotland.
"It is disappointing that Amber Rudd has repeatedly cancelled or postponed meetings of the joint ministerial working group on social security were a number of these issues could be resolved.
"With Tory welfare policy forcing people to food banks, reducing household finances and leading to increases in child poverty, Amber Rudd might want to focus on what she can learn from Scotland – instead of lecturing Scotland."
The criticism came as Ms Rudd announced a raft of changes to disability benefits for pensioners.
From the spring of this year, around 270,000 disabled pensioners will not have their personal independence payment (PIP) awards regularly reviewed, Ms Rudd said in a speech on Tuesday.
The commitment forms part of a wider package of measures intended to "level the terrain" for disabled people.
Highland MP Jamie Stone, whose wife is disabled, said: "The removal of the perpetual fear that disabled people are being watched with a view to removing their benefits is to be welcomed.
"The issue we also have to think about is when the condition worsens and an entitlement to increased PIP becomes evident. People like my wife need to be reminded about asking for a re-assessment as and when they feel that their condition has deteriorated."
George Paterson, 84, who is secretary with the Grampian Citizens Forum, said: "Although the move today is welcome the management of the benefits system has been ridiculous, some have to wait five weeks for payments, you have to go to work assessments and some people have to go to foodbanks. There needs to be sweeping change."