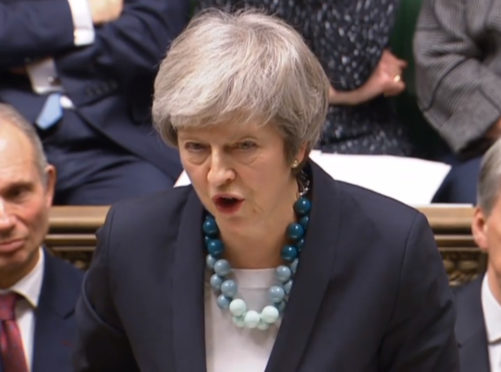 The SNP has "no mandate" to continue pursing independence, Theresa May told MPs after she was challenged over the legitimacy of her Brexit strategy.
Mrs May caused outrage on the SNP benches in the Commons after making the claim during prime minister's questions.
Her comment came after Aberdeen North MP Kirsty Blackman questioned the legitimacy of pursing Brexit after the Scottish Parliament and the Welsh Assembly passed identical motions calling for the planned exit date of March 29 to be put off.
MSPs and AMs also reiterated their opposition to the UK government's plans and to leaving the EU without a deal.
Mrs Blackman said: "Last night, a historic vote took place in Welsh Assembly and the Scottish Parliament. Both parliaments simultaneously rejecting the prime minister's deal. Isn't it the case that the prime minister has no mandate from Scotland for either a no deal or her deal?"
Mrs May responded: "We entered the European Union as the United Kingdom, we will leave the European Union as the United Kingdom and I also say to her that the SNP has no mandate from the Scottish people to continue to pursue independence."
SNP Westminster leader Ian Blackford could be seen screaming "that's not true, that's not true" from his seat and subsequently raised a point of order with Speaker John Bercow accusing Mrs May of misrepresenting the facts.
He said: "The Scottish National Party stood on a manifesto commitment of an independence referendum if there was a material change of circumstance.
"It might be a surprise to the prime minister, but we won the election, perhaps more importantly we took a motion to the Scottish Parliament because there is emphatically a majority for independence in that parliament and we won that vote in March 2017 by 69 votes to 59."
Mr Blackford, speaking to the Press and Journal after prime minister's questions, said he believed Mrs May had a "problem with telling the truth".
He said: "It grieves me to say that, we were really quite angry today because they're trying to misrepresent.
"I am pretty fed up that I have to keep getting to my feet and saying this isn't on."