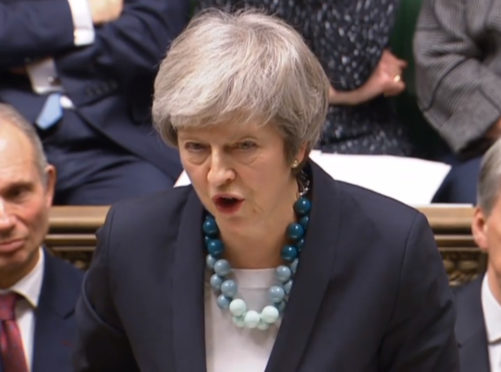 Theresa May's Brexit immigration policy was branded "heartless" after it emerged an 87-year-old woman living in Scotland had been asked to register to stay in the UK.
SNP Westminster leader Ian Blackford said forcing Tove MacDonald, brought up in Denmark under Nazi occupation before moving to the UK 59 years ago, to register for settled status was "a disgrace".
Mr Blackford raised the case at prime minister's questions following an STV News interview with Ms Macdonald.
The grandmother, describing the moment she received the UK government's letter, said: "I got a letter to say that because of Brexit I had to register and I couldn't understand why.
"I thought 'this couldn't be right', because I've been here for so many years. I thought it was absolutely crazy. It makes me feel very sad because this is my home and I feel more Scottish than Danish, I've got nowhere to go. This is my home."
Mr Blackford said: "It is disgraceful that the UK government is forcing Tove Macdonald to apply to stay in her own home – despite having lived in Scotland for almost sixty years.
"Tove has children and grandchildren in Scotland. She was married here, she has friends here, and she has built her life here. It is utterly shameful that the UK government is now making her register to remain."
He later added: "Under Theresa May's damaging Brexit plans up to 200,000 EU nationals living in Scotland could be forced to register, under threat of deportation – and even though Scotland voted overwhelmingly to remain in the EU.
"The UK government must end this heartless policy and its mistreatment of EU citizens living in Scotland and the UK. EU nationals are our friends, neighbours, colleagues and family members."
Mrs May did not respond to the specifics of the case, but said: "We want to ensure EU citizens living here have their rights protected.
"If he is interested in defending and protecting the rights of EU citizens here in this country then I hope he will vote for the deal, which does exactly that."