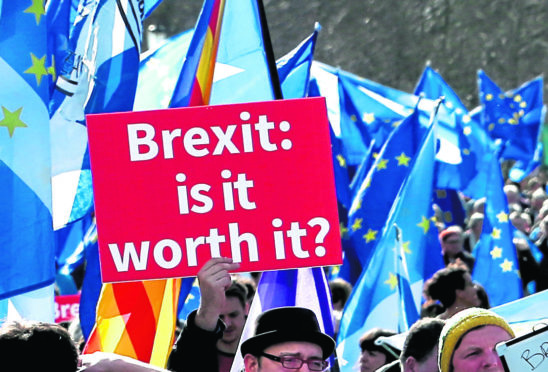 The government has secured "legally-binding" changes to the Brexit deal after Theresa May made a last-minute dash to Strasbourg for talks last night.
Mrs May has called on MPs to back her Brexit deal. But how does your local MP plan to vote tonight?
Ross Thomson – Aberdeen South
Conservative (Against)
Kirsty Blackman – Aberdeen North
SNP (Against)
Andrew Bowie – West Aberdeenshire and Kincardine
Conservative (For)
Colin Clark – Gordon
Conservative (For)
David Duguid – Banff and Buchan 
Conservative (For)
Douglas Ross – Moray
Conservative (Waiting to see revised deal)
Drew Hendry – Inverness, Nairn, Badenoch and Strathspey
SNP (Against)
Ian Blackford – Ross, Skye and Lochaber
SNP (Against)
Brendan O'Hara – Argyll and Bute
SNP (Against)
Angus MacNeil – Western Isles
SNP (Against)
Jamie Stone – Caithness, Sutherland and Easter Ross
Liberal Democrat (Against)
Alistair Carmichael – Orkney and Shetland
Liberal Democrat (Against)
---
Differing views on deal from north-east Tory MPs
North-east Tory MPs were divided over Theresa May's Brexit deal last night as the prime minister struggled to get last minute concessions from the EU.
Aberdeen South MP Ross Thomson said his opposition to the deal remained "unchanged" and said if it were rejected again he would vote to keep no-deal on the table and reject any attempt to extend Article 50.
Moray MP Douglas Ross, who voted against the deal in January, told the Press and Journal that he wanted to review any last-minute concessions before making a decision, while Gordon MP Colin Clark urged his colleagues to get on board.
He said: "This week looks like crunch time for would
be contenders to show leadership.
"We risk losing control and Parliament refusing to deliver Brexit.
"It's time to step up, support the attorney general's changes, get behind the prime minister's deal and lead from the
front."
Caithness Sutherland and Easter Ross MP Jamie Stone said he and the Lib Dems had no intention of supporting the deal.
He said: "The whole approach of Theresa May's government to Brexit has been a disaster. It is an embarrassment that her government is in power at this time.
"I have no intention of supporting her shambles of an agreement.
"The EU has served the Highlands very well for much of my life and that situation should stay the same."
Aberdeen North MP Kirsty Blackman said she too, along with SNP colleagues, would be voting against the deal.
She said: "We will be poorer if this deal goes through. I do not know how any MP can vote for a deal they know will make their constituents worse off."