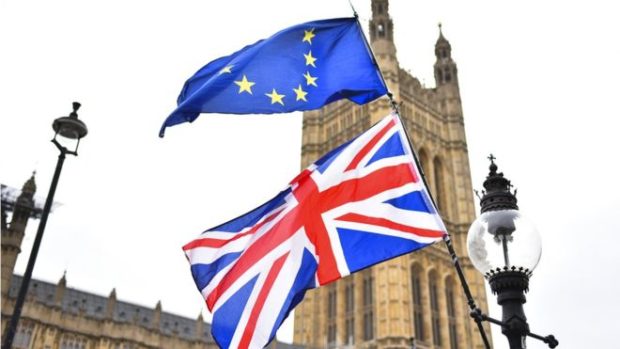 Another roller-coaster day in Westminster and what was achieved?
Not much in the eyes of officials on the continent.
The EU's deputy Brexit negotiator Sabine Weyand was reported to have told ambassadors that parliament was now "divorced from reality" after MPs spent the day debating alternatives to Theresa May's deal.
Weyand also said the decision to vote to take no-deal off the table was akin to "the Titanic voting for the iceberg to get out of the way".
No matter how many motions the Commons passes on no-deal, the fact is that the UK will leave on March 29 unless Article 50 is revoked or a deal is agreed.
Indeed, environment secretary Michael Gove, who opened Wednesday's debate, said as much when quizzed by MPs.
Responding to former Tory chancellor Ken Clarke, Mr Gove said: "The default position in law is that we do leave the EU unless we can secure assent to a withdrawal agreement."
So, all the cheers and paper waving when Tory MP Dame Caroline Spelman's amendment was passed last night – which stipulates that a no-deal exit should be ruled out altogether – will come to nothing unless there is a serious undertaking by Downing Street to agree a cross-party deal or Brussels can be convinced to extend Article 50.
Today's debate will see MPs voting on whether to request an extension but, the mood is not great.
The EU's chief Brexit negotiator Michel Barnier said yesterday: "Why would we extend these discussions? The discussion on article 50 is done and dusted. We have the withdrawal agreement. It is there."
If, as Labour leader Jeremy Corbyn suggested, parliament takes control of the process and a series of new options, such as a second referendum or customs union, are voted and approved the EU would likely allow for an extension – thus truly avoiding a no-deal Brexit.