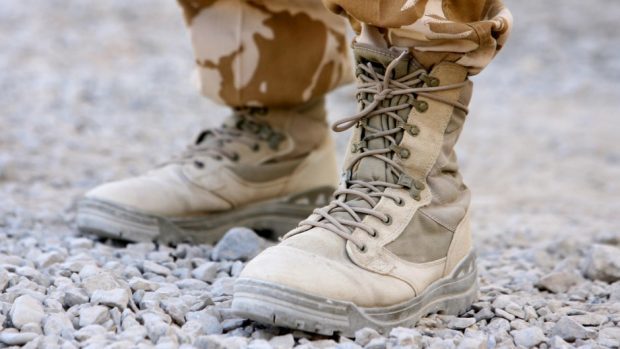 Theresa May has pledged an additional £6million to compensate troops hit by "SNP tax hikes" in Scotland.
Anyone earning more than about £26,000 in Scotland now pays more income tax than they would if they lived elsewhere in the UK.
The last Scottish Government budget in December confirmed further divergence between Scottish and UK tax rates and as a result the financial compensation cap for Armed Forces personnel liable for Scottish tax has risen from £1,500 to £2,200.
The Ministry of Defence (MoD) says about 7,000 military personnel have been affected.
The prime minister last year agreed to cover the cost of the tax, and yesterday confirmed the support would continue.
Mrs May, speaking at prime minister's questions, said: "What has happened with the SNP's tax hike both this year and next year is that it unfairly hits a majority of our brave and loyal service personnel based in Scotland.
"This leaves thousands of them out of pocket and this wrong. So we will therefore again be providing financial mitigation payments for those negatively affected for the tax year 2019-20 by the Scottish income tax hikes
"That financial mitigation payment will be made retrospectively in 2020."
Moray Tory MP Douglas Ross, who has lobbied the government to cover the cost, said: "The MoD should not have to spend money to clear up the mess left by the SNP – but we must ensure that all our troops are treated equally.
"There is a long and proud military history in Moray, and I don't believe personnel at Kinloss Barracks or RAF Lossiemouth should be penalised for serving here, which is why I'm grateful that the prime minister has listened to my concerns which were raised with the defence secretary and agreed to act again this year.
"Personnel don't choose to come to Moray, they are posted here, so it's only right that they pay the same tax as other members of the armed forces stationed in other parts of UK or around the world."
Finance Secretary Derek Mackay, responding to the comments, said: "As a result of the Scottish Government's progressive tax system most Scottish income taxpayers – including thousands of armed forces personnel – will pay less income tax than people earning the same and living in the rest of the UK.
"We are fully committed to supporting the armed forces community. Scotland continues to be an attractive place to live, work and do business with armed forces families in Scotland able to access many services and benefits not available elsewhere in the UK."