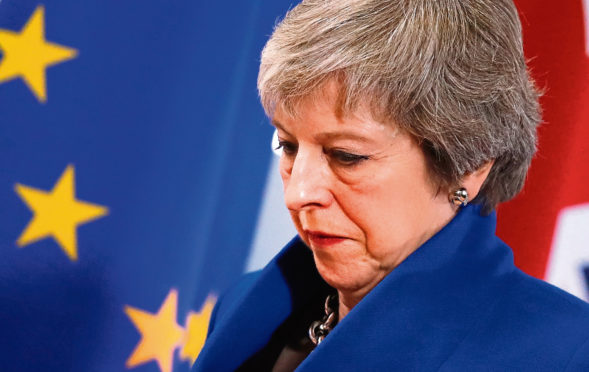 Theresa May will today challenge MPs to back Brexit on the day the UK was originally meant to leave the EU.
In a special Commons sitting, MPs will be asked to back the withdrawal element of Mrs May's twice defeated deal – covering the "divorce bill", citizens' rights and the controversial Irish "backstop".
But the motion will not count as a third "meaningful vote" on Mrs May's deal, because it will not cover the future relationship with Europe.
The move, described as a "wheeze" and "procedural trickery" by MPs, was engineered by the government to get around Speaker John Bercow's ruling last week that Mrs May's deal could not come back to the Commons, unchanged, again.
Amid anger from MPs, Commons leader Andrea Leadsom said support for the motion was "crucial" if the UK wanted to secure a Brexit delay until May 22.
She said: "If we don't agree the Withdrawal Agreement tomorrow then we will not, so that leaves in doubt the future for the arrangements with the European Council.
"I think we can all agree that we don't want to be in the situation of asking for another extension and facing the potential requirement of participating in European Parliament elections."
Labour's Valerie Vaz said the move "on the face of it breaks the law" and argued: "This is no way to run a government."
SNP frontbencher Pete Wishart said the public would be "absolutely bemused, mystified, frustrated and increasingly angry" about the way business was being carried out in Parliament.
He added: "The sitting is the latest wheeze to get their doomed Brexit deal through, they're inviting us to consider the withdrawal agreement without the political declaration attached.
"It is the meaningful vote, but it's a sort of Schrodinger's meaningful vote, both alive and dead at the same time.
"This is the last throw of the dice."
If passed by MPs, the vote would qualify the UK to be granted an automatic delay to May 22 of the formal date of Brexit.
If the parliamentary vote fails, Mrs May will have to spell out to EU leaders what steps Britain will take by a deadline of April 12, or risk crashing out of the bloc without a deal.