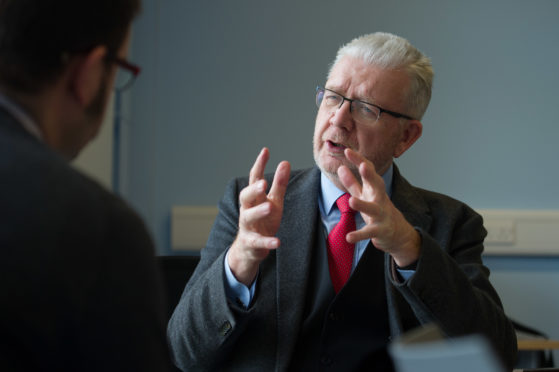 Mike Russell has been accused of "game playing" after demanding a second Brexit referendum and then saying the Scottish Government would not necessarily accept the result.
The constitutional relations secretary, appearing before MSPs yesterday, suggested the "best outcome" to the Brexit deadlock would be a People's Vote.
However, moments after the comment, he said that the SNP government could well reject the outcome if the UK-wide result differed from the one in Scotland.
Mr Russell said: "If I were able to wave a magic wand and get what I want – apart from no Brexit, which has been a complete distraction and disaster for the last two and half years of massively damaging proportions – then it would have to be a very long delay, a referendum, the European elections taking place and perhaps some calmness coming into this to look at the damage that would be done by proceeding along the present lines."
Tory MSP Murdo Fraser then asked if the Scottish Government would accept the result of such a referendum.
He said: "Let's say there was a narrow vote, 52 to 48%, in support of the withdrawal agreement, would the Scottish Government then accept that needs to proceed?"
Mr Russell replied: "I think it would depend on what the vote in Scotland is, I think a situation in which the people of Scotland continue to support being members of the EU and were denied that option for a second time would be insupportable.
Mr Fraser said afterwards: "This is all yet more SNP game playing. Far from compromising in order to deliver an orderly Brexit, the SNP just wants to use Brexit to create yet more grievance and constitutional division. The only priority the SNP has is to deliver on its real goal – a second referendum on independence."
Mr Russell later spoke about the steps the Scottish Government was taking to minimise the impact if the UK is forced to leave the EU without a deal in place.
Mr Russell told MSPs on Holyrood's Constitution Committee: "I want to stress very strongly at the outset we can not do everything.
"That should be understood. This would be an unprecedented set of circumstances, we have tried to cover all the bases but clearly that would be very difficult to do."
Retailers are "reasonably confident" they could keep their stores stocked if there was a no-deal Brexit, Mr Russell said, though he added supplies of some items might not be "completely uninterrupted".