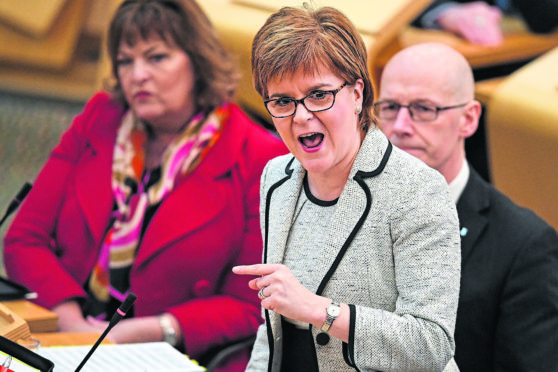 Nicola Sturgeon's airline tax break U-turn and shift in support for Heathrow expansion should "set alarm bells ringing" in the north-east, an MP has said.
Colin Clark, whose Gordon constituency covers Aberdeen International Airport, made the comments after the first minister signalled that the Scottish Government could drop support for the third runway at Heathrow.
The move came just days after a manifesto pledge to cut air taxes by £150 million was scrapped.
Nicola Sturgeon U-turns on flagship plans for airline industry tax cut
Ms Sturgeon said the policies had been reviewed through the "new lens of climate change".
But Mr Clark branded the policy shift "knee-jerk populism", he said: "This SNP shift away from support for air tax cuts and Heathrow expansion will set alarm bells ringing among the business community in the north-east.
"In the space of a few days, we have a broken manifesto promise to cut Air Departure Tax and Nicola Sturgeon back-tracking over support for a third runway at the UK's biggest airport.
"Aberdeen Airport bosses – backed by Aberdeen and Grampian Chamber of Commerce – made absolutely clear the benefits that a third runway can bring to the north-east and wider Scottish economy."
"Nicola Sturgeon and her SNP colleagues in Edinburgh repeatedly spoke in favour of Heathrow expansion, while the Scottish Government signed a memorandum of understanding with the airport."
Calls for councils to set air taxes after Scottish Government U-turn
In the past the Scottish Government has argued that a third Heathrow runway would create 16,000 Scottish jobs with the potential for increased flights between the London airport and Scotland.
Mr Clark added: "We are all aware of the need to tackle climate change, but these policy shifts smack of knee-jerk populism from Nicola Sturgeon and the SNP.
"We should all be focused on trying to grow our economy while taking a responsible approach to reducing carbon emissions – we can and should be doing both."
A spokesman for Finance Secretary Derek Mackay said: "It is the Tories who are guilty of rank hypocrisy, given that they are responsible for aviation taxes south of the border which they appear to have no intention of cutting.
"And their knee-jerk opposition to policies such as giving Scottish councils the power to levy a workplace parking charge shows they aren't serious about tackling climate change."