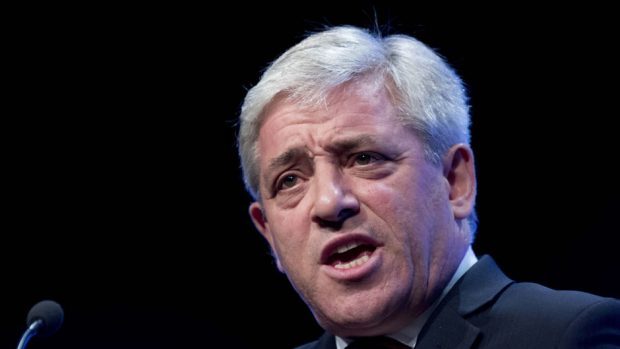 A no-deal Brexit is not "inevitable" and could well be blocked by the Commons despite pledges from Tory leadership contenders, Speaker John Bercow has said.
Boris Johnson, widely believed to be the front-runner to succeed Theresa May, has insisted the UK will leave on October 31 "deal or no deal".
But Mr Bercow, addressing an event in Washington, suggested it was not just a matter for the next Tory leader to decide.
He said: "The idea the House won't have its say is for the birds, parliament is a big player in this.
"The the idea that parliament is going to be evacuated from the centre stage of debate on Brexit is unimaginable, simply unimaginable.
He added: "My reading of the situation is that legally the default position in the absence of an agreement, a deal, is Brexit will happen on 31 October.
"But there can be difference between what the law says and what political movements are made between now and then.
"I think there is much debate still to be had and i think the idea that there is an inevitability of a no-deal Brexit would be a quite wrong suggestion, there is no inevitability whatsoever about that."
Mr Bercow also said he had "nothing to add to or subtract from" his past attack on Donald Trump, when he banned the him from speaking to parliament.
The ban is widely seen as having prevented the US president from making an address on his State Visit next week – with both Number 10 and Washington keen to avoid further controversy.
He also seemed to step into the fray of the Tory leadership contest by praising both Michael Gove and Jeremy Hunt as "extremely capable ministers" with "the intellectual self-confidence as well as the communication skill" to thrive in the chamber – as well as hailing their "pursuit of consensus".