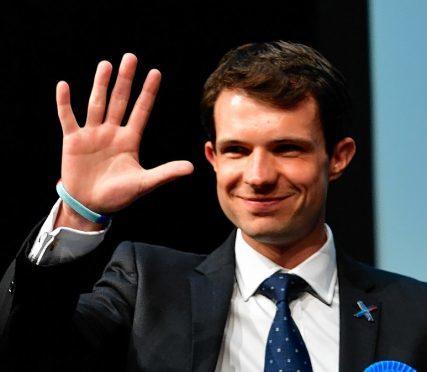 Tory rising star Andrew Bowie has backed health secretary Matt Hancock to succeed his boss in Number 10.
The West Aberdeenshire and Kincardine MP, who has been one of Theresa May's closest confidants, serving as her parliamentary private secretary for the past six months, told the Press and Journal that Mr Hancock was the man to "bring the country together".
Mr Bowie also spoke out for the first time about an emotional week in Downing Street in which Mrs May announced her resignation.
"It was obviously a very tough day", he said.
"I arrived in Downing Street at quarter past seven that morning and I slipped in the back door to avoid the media.
"It was a weird atmosphere inside. Very quiet. Very downbeat."
"It was hard, but it was a privilege to be there with Philip (Mrs May's husband) and to be in Downing Street at that time.
"I know people were surprised by the emotion she showed, but as I say whenever anyone asks, she is a very, very human individual.
"She feels things greatly and she's a patriot. She was very passionate about what she was trying to do.
"The problem was that she never let that side of her show, so every time she stepped out the door and had an interview a shield came down.
"When she did show emotion it caught a lot of people by surprise but didn't catch me by surprise. I'd seen her show emotion on all sorts of issues."
Mr Bowie said it was now time to look to the future and said Mr Hancock was the candidate of renewal.
He said: "I worked with Matt when I was PPS at DCMS (The Department for Digital, Culture, Media and Sport) so I saw first hand the enthusiasm and the work ethic that he has got.
"He's somebody that is positive about the future of the party, positive about the future of the country and has got ideas for this party and this country beyond Brexit.
"He talks in the sort of language that you need to talk in to attract a new generation of voters to this party and is also talking about how we can bring the country together post any Brexit deal that we manage to get through the Commons.
"He is also a passionate unionist and he has a strong belief in how we can promote the union and promote Her Majesty's Government in Scotland.
"I think he ticks every box."
Eleven Conservative MPs have so far entered the race, which is expected to be decided by the end of July, to become both party leader and prime minister.