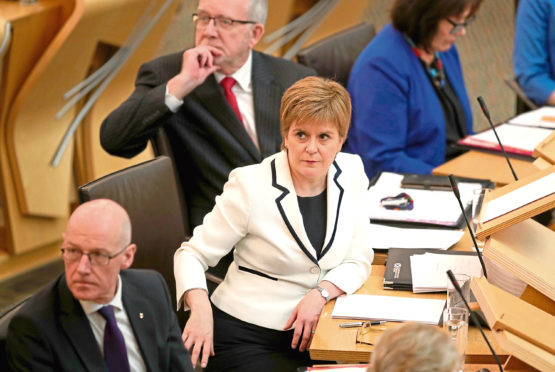 Lib Dem leadership contenders Jo Swinson and Sir Ed Davey have united in condemning Tory and SNP "nationalism" ahead of a hustings in Aberdeen.
The pair, who are both hoping to succeed Sir Vince Cable at the helm of the party, told the Press and Journal that the "populist politics" of Boris Johnson and Nicola Sturgeon was threatening the prosperity of the United Kingdom and was preventing governments from focusing on the "real issues" that improve people's lives.
Sir Ed said: "I think the right wing Tory Brexiteers are undermining the United Kingdom in a dramatic way. I utterly reject what people like Boris Johnson stand for.
"I think nationalism in its populist sense, which you see from the Brexiteers and the Farages, you see echoes of that in Scotland which seeks to break up the country that I love."
Ms Swinson added: "SNP nationalism is trying to break up the UK and with Boris Johnson you've got nationalism and populism trying to drag us out of the EU and drag us out in an extreme way in a sort of no-deal scenario.
"Most people want to stay in the UK, stay in the EU and have governments who can get on with making people's lives better."
The MPs, who both served in the Coalition Government, also spoke of their ambitions to transform the UK with a green and technological revolution and desires to hand Holyrood more power through greater devolution.
Sir Ed said: "I very much believe in a federal Britain and having huge devolution in Scotland, always have, always will. I'm very much in favour of Scotland having the powers that it needs."
Pressed on what greater devolution would look like, he said: "I would work with the Scottish Liberal Democrats and wider Scottish politics to get that final settlement and take max devolution type proposals further forward, it was promised in the Scottish independence referendum and we have got to make sure that that agenda is fully delivered."
Ms Swinson agreed that the Lib Dems had always been a "federalist party" and in favour of further devolution, but cautioned that the appetite for more "constitutional wrangling" was not necessarily there with the public.
She said: "I don't think that people want masses of constitutional wrangling right now, but, of course trying make our constitution work better it's an evolution, rather than revolution the way that we do things.
"But I think people are really keen to see a government that can just actually get on with the business of making sure public services work well."
Asked about their programmes for reform Sir Ed focused on the opportunities of the green economy and Ms Swinson told how she could help unlock the tech revolution.
Sir Ed, who served as energy secretary in the Coalition, batted off suggestions his "complete obsession" with tackling climate change was in any way a threat to the oil and gas industry.
He said: "When we look the oil and gas industry the question is how do we support that industry as it goes through a transition? The top thing you do is you invest in technology like carbon capture and storage, I did.
"As secretary of state I put forward the biggest project which would have secured a future for the gas industry particularity where we had the world's first, the world's only gas CCS at Peterhead.
"The Tories stopped it, they abandoned it."
A Tory spokesman said: "The Lib Dems complain about division – yet they are advocating a second EU referendum which would only serve to deepen splits."