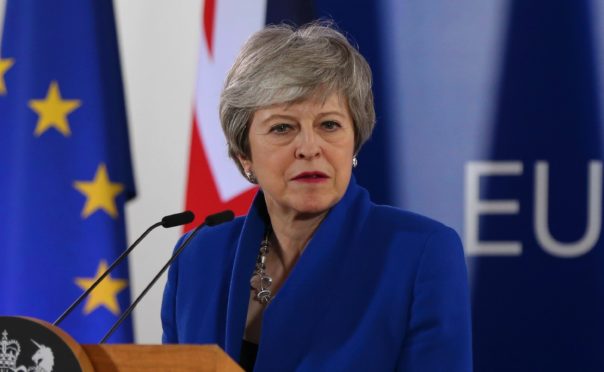 Theresa May has ended her turbulent tenure as leader of the Conservative Party, though she will remain in Downing Street as prime minister until a successor is chosen.
The final day of her stint at the Tory helm was marked by defeat at the ballot box, as the party slumped into third place in the Peterborough by-election behind both Labour and Nigel Farage's Brexit Party.
Failure to win back a seat that was Conservative as recently as 2015 set the seal on a calamitous period in power for a prime minister who was forced out by her own troops amid electoral debacle and an inability to deliver Brexit.
Mrs May spent her last day as leader in her Maidenhead constituency.
From there, she sent a formal resignation letter to the acting co-chairs of the Tory backbench 1922 Committee.
West Aberdeenshire and Kincardine MP Andrew Bowie, who served as Mrs May's private parliamentary secretary for the past six months, paid tribute to his outgoing boss.
He said: "It's a sad day for the Conservative Party and the country to see Theresa May resign as leader.
"A dedicated public servant who loves this country and has done more to promote women in Conservative politics than almost anyone else, her legacy will be one of decency and determination to do the right thing."
Scottish Secretary David Mundell, who is Mrs May's longest serving Cabinet minister, added: "I am sorry to see Theresa May stand down.
"Having worked closely with her over many years I know how dedicated she was to serving her country.
"Hardworking, hugely resilient and committed, Mrs May always set herself the very highest standards in public office and expected the same of others.
"It has been a pleasure and an honour to have worked with her.
"In the most challenging of circumstances, she tried time and time again to deliver an orderly Brexit.
"Above all, I would like to thank her for placing the Union at the very heart of her premiership."
Mrs May announced her resignation two weeks ago, saying it was a matter of deep regret that she had been unable to deliver Brexit.
Eleven candidates are currently in the running to replace Mrs May.
MPs need eight people to back them in order to compete in the first round of hustings on Tuesday and vote on Thursday.
In Thursday's vote any candidate who gets 16 or fewer Tory MPs backing them is eliminated, the process repeats in more hustings and votes until two contenders are left.
The vote is then thrown open to the Tories' 160,000 members who spend a month deciding who will lead their party – and thus be the next prime minister.