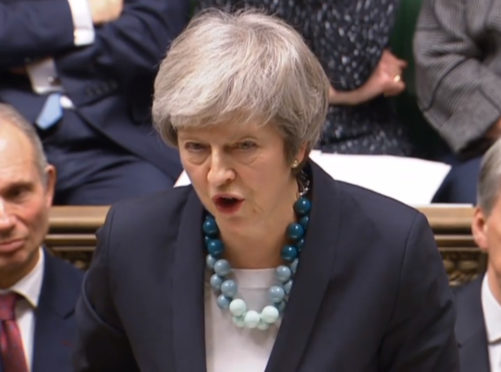 Theresa May has hit out at the SNP's record in government, claiming the every day concerns of Scots are being "ignored" by Nicola Sturgeon.
The prime minister lashed out after the SNP's Westminster leader Ian Blackford said the UK Government was "driving the economy over a cliff" to please Brexiteers.
Mr Blackford, speaking during prime minister's questions, said: "Your legacy will be driving the UK economy over the cliff into another recession.
"The blame for any recession will lie at the door of this Brexit-obsessed Government that is incapable of doing their day job."
Mrs May levelled similar accusations at the SNP, saying the party was neglecting education and health in Scotland due to its obsession with independence.
She said: "The SNP promised people in Scotland in 2014 that the independence referendum was a once-in-a-generation vote.
"Now it is laying the foundation for another vote in just 18 months' time. SNP members often claim – they stand up and claim it here in this house – that Scotland is being ignored.
"It is being ignored by an SNP government, obsessed with another referendum against the wishes of a clear majority of Scots."
She added: "People in Scotland want a Scottish Government who focus on improving their schools, improving their health service and improving their economy – not one obsessed by separation."
Mrs May also clashed with Labour leader Jeremy Corbyn, who criticised the prime minister for creating a "hostile environment" for immigrants.
Mr Corbyn also said the Tories associate with "racists and anti-Semites" in the European Parliament and that the party "sucks up" to such governments across Europe.
Mrs May hit back by comparing Mr Corbyn to comedian Groucho Marx after accusing him of watering down his anti-racist and Eurosceptic stances.
She said that Mr Corbyn "was an anti-racist, now he ignores anti-Semitism" before claiming he backs Remain over Brexit, adding: "He's truly living up to the words of Marx: 'Those are my principles, and if you don't like them I've got others'."