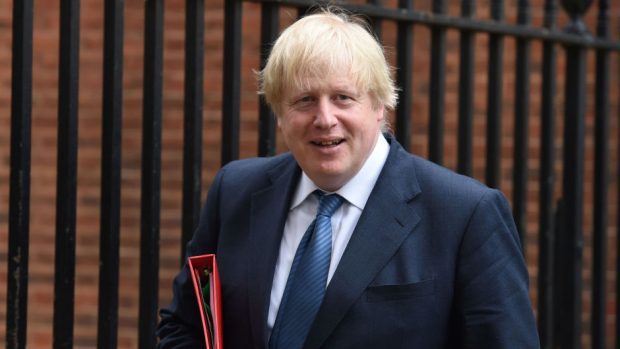 Boris Johnson pledged to "turbo-charge" the Scottish fishing industry as he tore into the SNP's "programme for total national discord" on the final day of the Tory conference.
The prime minister also thanked former Scottish Tory leader Ruth Davidson and promised to "honour her legacy".
Ms Davidson, who resigned in August, was openly opposed to the UK leaving the European Union without a deal – something Mr Johnson has repeatedly said he would be prepared to countenance.
In his speech in Manchester yesterday, Mr Johnson again said the UK will be "coming out of the EU on October 31, come what may".
The prime minister did however say it was "not an outcome we seek" as he revealed the UK Government would be tabling fresh proposals in Brussels for a "compromise deal" this week.
Under the new proposals, which have been dubbed "two borders, for four years," Northern Ireland will leave the EU customs union alongside the UK, but remain aligned on all single market rules for agriculture and industrial goods for four years.
This will create a regulatory border across the Irish Sea between Great Britain and Northern Ireland and a customs border between Northern Ireland and the Republic of Ireland – essentially two borders.
Mr Johnson said: "We are tabling what I believe are constructive and reasonable proposals, which provide a compromise for both sides
"We will under no circumstances have checks at or near the border in Northern Ireland.
"We will respect the peace process and the Good Friday agreement and at the same time we will allow the UK – whole and entire – to withdraw from the EU, with control of our own trade policy from the start."
The prime minister made the Brexit offer the centrepiece of his speech – but he also laid the groundwork for a "people v parliament" general election, blaming MPs for trying to stop Brexit.
He said: "If Parliament were a laptop, then the screen would be showing the pizza wheel of doom.
"If Parliament were a school, Ofsted would be shutting it down.
"If Parliament were a reality TV show the whole lot of us would have been voted out of the jungle by now, but at least we could have watched the Speaker being forced to eat a kangaroo testicle."
Mr Johnson also lashed out at Labour, calling it a party of "fratricidal antisemitic Marxists" – highlighting radical policies including the four-day week and the abolition of private schools.
And the prime minister said the SNP wished to plunge the UK "into the chaos and cacophony of two more referendums".
SNP Westminster leader Ian Blackford said Mr Johnson's Brexit offer to the EU was "doomed to failure" and called on opposition parties to unite and remove him from office.
He said: "Boris Johnson knows his extreme Brexit plan is completely unacceptable and doomed to failure. Instead, he must obey the law and commit to securing an extension.
"We need opposition parties to unite behind the SNP's plan for a vote of no confidence – to remove Boris Johnson, secure an extension and call an election before it is too late."