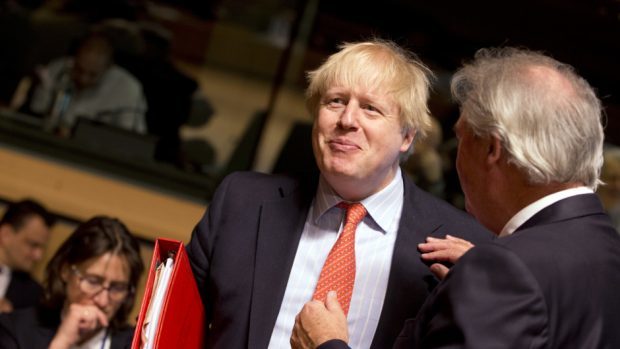 Boris Johnson is likely to win the general election with a majority of 28, according to a comprehensive new poll.
According to YouGov's 'MRP' poll the Tories are likely to win 339 seats (22 more than they took in 2017) and a vote share of 43%, Labour would take 231 and the Liberal Democrats would end up with 15.
In Scotland, Mr Johnson would lose five of his colleagues to the SNP – including Scotland Office minister Colin Clark in Gordon.
According to the poll, which accurately predicted the 2017 result, Labour are set to lose two of their seven seats to the nationalists putting Nicola Sturgeon's party on 41 MPs.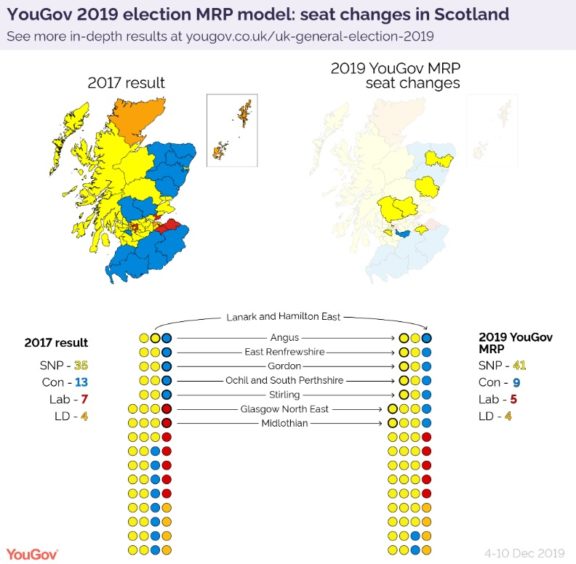 The Liberal Democrats are forecast to cling onto their four MPs north of the border.
In all, among the 59 seats in Scotland there are 11 where the SNP are ahead by 5% or less, and eight where they are in second place 5% or less behind the lead party.
This includes North East Fife, where the SNP beat the Lib Dems by just two votes in 2017.
Chris Curtis, YouGov's Political Research Manager, said: "Our latest and final poll shows that a small Conservative majority is likely, with the Tories taking 22 more seats than in 2017 and Labour losing 31. This would be the best and worst results respectively for each party since the 80s.
"But the margins are extremely tight and small swings in a small number of seats, perhaps from tactical voting and a continuation of Labour's recent upward trend, means we can't currently rule out a hung parliament. As things currently stand there are 85 seats with a margin of error of 5% or less."
YouGov's method, the so-called MRP (which stands for a modelling technique called multilevel regression and post-stratification), models a result for each constituency by creating a profile for how various demographic groups might vote, based on a large sample of 100,000 interviews conducted over the previous six days.