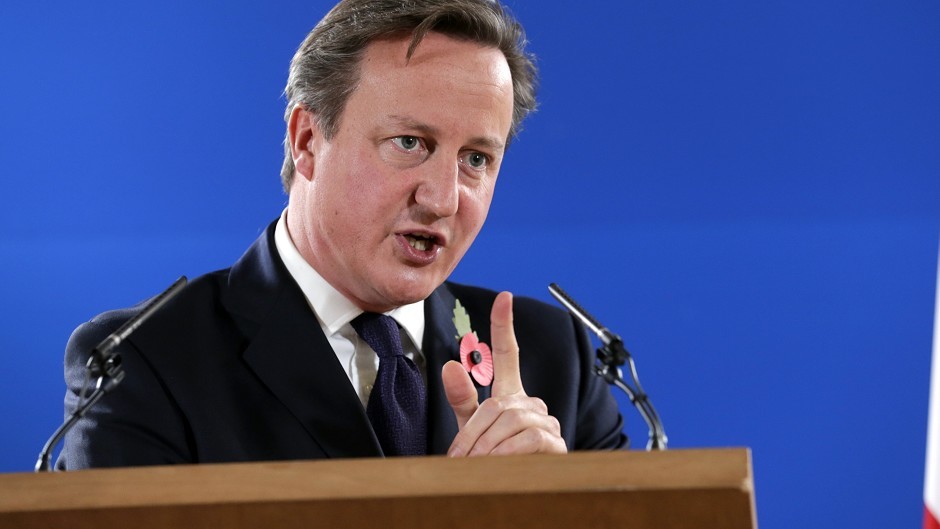 David Cameron was on a collision course with EU chiefs last night after announcing angrily that Britain would not pay a "completely unacceptable" £1.7billion levy.
The prime minister interrupted a European Council summit in Brussels to demand emergency talks on the surcharge.
He later compared the UK's treatment to being "clubbed with the lead piping in the library" – and added that it "doesn't help" make the case for staying in the EU.
But while Mr Cameron insisted he had not been made aware of the bill until Thursday, Westminster officials said the Treasury had received details several days earlier.
Labour questioned the prime minister's apparent surprise, suggesting the coalition government would have known for "weeks and weeks".
The surcharge – which would add almost a fifth to the UK's annual contribution of £8.6billion – is aimed at reflecting Britain's better-than-expected economic performance relative to other EU states.
It results from an EU recalculation of VAT receipts and national incomes dating back to 1995.
Mr Cameron secured agreement for an urgent meeting of EU finance ministers to review the proposed payments, winning support from the Netherlands, Italy, Greece and Malta, who are also facing surcharges.
In an unusual move, he revealed to journalists in a press conference that Italy's prime minister Matteo Renzi had privately told fellow leaders that the demand was "a lethal weapon" that would lead voters to see the commission as "technocrats and bureaucrats without a heart or a soul".
His face flushing with anger, Mr Cameron banged his fist on his lectern and said: "It is an appalling way to behave. I am not paying that bill on December 1. If people think I am they have got another think coming."
But agreement to reduce or waive the payments may prove difficult, as some other major EU states stand to benefit to the tune of hundreds of millions of euros – with France due £800million and Germany in line for £614million.
Labour said the row showed Mr Cameron was now "isolated, one foot out of the door, and ignored" in Europe.
Shadow chancellor Ed Balls said the Treasury must have known about the surcharge for "weeks and weeks and weeks" and asked: "What has our prime minister been doing? I mean, how could he suddenly be surprised about this?"
European Commission spokesman Patrizio Fiorilli said the figures were produced by a "mechanical" calculation and the demand was "not politically motivated".