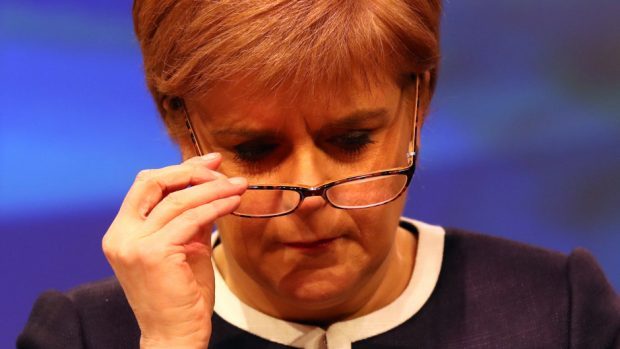 Nicola Sturgeon's personal approval rating have gone into freefall making her the least popular Scottish party leader, a new poll has found.
The survey, carried out for pollster Ipsos Mori for STV, found that the First Minister's rating has collapsed from +14 to -4 since September last year.
However, the poll also found support for the SNP had remained strong adding weight to suggestions that the party chose to drop the leader's image from the front page of their manifesto due to her unpopularity.
The poll found 43% of decided voters intended to vote for the party (a drop from 50% in 2015), while 25% planned to vote for the Conservatives and 25% for Labour. The Lib Dems remain in fourth place with 5%.
It also showed support for Scottish independence has fallen with 47% in favour and 53% against, versus a previous 50-50 split.
Prime Minister Theresa May showed the biggest drop after falling 43 points from +16 to -27, while Scottish Labour leader Kezia Dugdale rose eight points to -2.
Asked whether the decision to not display her image on the front page was due to her "divisive" reputation with voters, Ms Sturgeon joked, "the baby is cuter" (in reference to the child displayed on the cover).
Speaking at yesterday's launch, the First Minister made her case for a new independence vote to be held after details of the UK's Brexit deal are revealed.
She added: "There is too much at stake for Brexit simply to be imposed on Scotland, no matter how damaging it turns out to be. Our future must be decided by us, not for us.
"Last year's Holyrood election delivered the democratic mandate for an independence referendum in the event of Brexit, and the recent vote of the Scottish Parliament underlined that mandate.
"If the SNP wins a majority of Scottish seats in this election, that will further reinforce that mandate. And in these circumstances, any continued Tory attempts to block Scotland having a choice – when the time is right and the options are clear – would be democratically unsustainable."