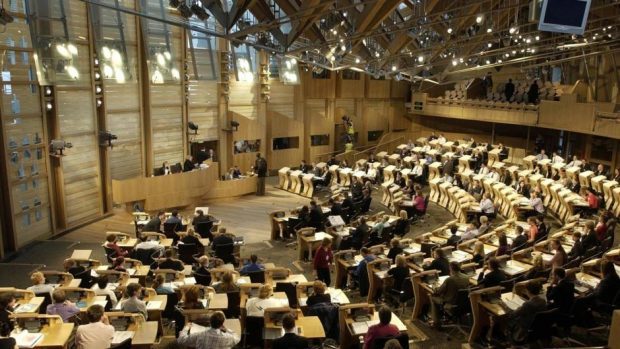 Scotland's energy sector could be "left behind" by the decision to ban underground coal gasification (UCG), the Scottish Conservatives have warned.
Alexander Burnett said the SNP's "dogmatic objection" to new technologies risked harming the country's businesses and economy.
But other political parties welcomed the decision, arguing it should be a pre-cursor to an outright ban on fracking, which is different from UCG.
A moratorium on fracking is currently in place, with a decision on whether or not to institute an outright ban expected after the SNP's conference next week.
Mr Burnett, who represents Aberdeenshire West, said: "It's deeply disappointing that the Scottish Government is taking this stance – it's yet another missed opportunity.
"These technologies could create thousands of jobs, boost the economy and lower future energy bills.
"The SNP is at great pains to say how different fracking and UCG are – perhaps their biggest similarity is the SNP's dogmatic objection to them both.
"Even the Scottish Government's own adviser is partially blaming ministers for not having the proper regulatory regime in place as a reason for this not happening.
"If we don't start embracing these technologies, we risk getting left behind altogether."
But Scottish Labour hailed the UCG ban as a "first step" to outlawing fracking north of the border.
The party's environment spokeswoman, Claudia Beamish, added: "SNP ministers now face an urgent choice – they can work with Labour to ban fracking, or they can work with the Tories to allow drilling in populated parts of central Scotland."
Her comments were echoed by the Liberal Democrat's energy spokesman Liam McArthur, who said: "This announcement was the right decision for communities around Scotland.
"Now we need the government to quickly finish their work on unconventional oil and gas so we can end the uncertainty and take fracking off the table too."
The Scottish Parliament recently backed a Labour motion calling for fracking to be banned outright, but that vote was not legally binding.
UCG is different to onshore unconventional oil and gas extraction, which includes fracking and is still subject to a temporary ban.
UCG involves burning coal seams underground to extract gas.
The minister said there will be an update on the future of fracking soon "as soon as possible" after parliament reconvenes from recess later this month.