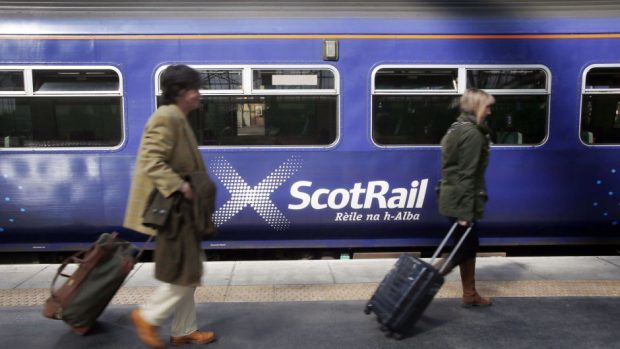 The Dutch company operating Scotland's trains has been warned it could lose its contract if train delays and cancellations get worse.
Transport Minister Humza Yousaf has vowed to terminate Abellio's £7billion deal to run ScotRail if its service declines any further.
It has emerged that the 10-year contract has a clause allowing it to be cancelled if only 84.3% of trains are on time or less than five minutes late.
It was previously thought the Scottish Government could only end the contract at the halfway point in 2020.
Commuters have been angered by Abellio's dismal service and 14,000 people have signed a petition calling for its contract to be scrapped.
Mr Yousaf said: "If the service further declines, there's a mechanism to terminate the contract early.
"I want improvement and we will use every lever to make sure that we improve our railway."
Under the contract Abellio is expected to meet a target of 91.3% of trains arriving at their destination within five minutes of their scheduled time.
The latest performance figure is 89.6%.
On Friday, Phil Verster, Abellio ScotRail managing director warned that passengers faced years of chaos as the network undergoes maswsive improvements.
He likened it to "performing open heart surgery while doing a marathon."
But Mr Yousaf said: "I don't find the performance level acceptable at all.
"The have put in an improvement paln and I'll work with them.
"We'll monitor it to see how it progresses.
"But make no mistake about it, if that improvement is not forthcoming, there's a reason why we have a break clause in the contract."
He added: "As someone who uses the train – most of my journeys to Edinburgh are at peak time – I understand the frustrations that people feel.
"There is overcrowding, capacity issues, trains skipping stops, issues around reliability and communication.
"All these are at a level that is unacceptable to me."