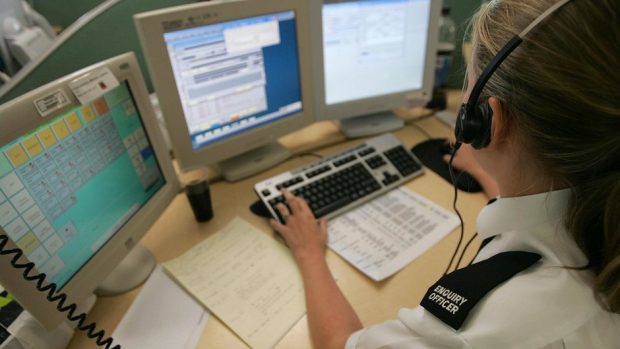 Police are introducing a new system for 999 calls that will alert operators if the caller is a vulnerable person.
Emergency handlers will now be able to tell if someone making a phone call is a repeated victim of domestic abuse or has mental health issues, for example.
The system is designed to help the emergency services send an appropriate level of response, in addition to judging the potential threat to officers.
The changes were announced as the news emerged there had been a 3% drop in domestic abuse in Scotland during the last year.
Explaining how the new call system would work, Assistant Chief Constable John Hawkins said: "The introduction of a national customer relationship management system will allow us, for the first time, to see any previous contact callers have had with us right across Scotland.
"We will be able to identify any threats or vulnerabilities, for example, where there has been a history of domestic abuse, and prioritise the police response effectively and consistently."
Police call-handling has come under-fire since the M9 tragedy, where a couple were left in their wrecked vehicle for three days – despite a member of the public reporting the incident.
Control rooms in Aberdeen and Inverness are set to be mothballed, with calls instead being handled in three central belt facilities.
The announcement of the new system came as Police Scotland reported a drop in the levels of domestic abuse.
Figures published yesterday showed that in 2015/16 there were 58,104 incidents of domestic abuse compared to 59,882 in 2014/15.
Despite the fall, Assistant Chief Constable Mark Williams, who has the strategic lead for Police Scotland's response to domestic abuse, argued there was more work to be done.
He said: "These figures illustrate the complexity and scale of the issue, but domestic abuse isn't about statistics or numbers alone.
"It's about the impact it has on vulnerable victims, their families and our communities."
He added that Police Scotland would "relentlessly pursue" those who "think it is acceptable to carry out abuse".
"It is simply unacceptable that victims suffer, often behind closed doors in their homes, where they should feel safe and secure.
"If you are a victim of domestic abuse, I would encourage you to come forward and report it. We will listen to you, you will be treated sensitively and professionally and we will ensure you have access to the right support throughout."