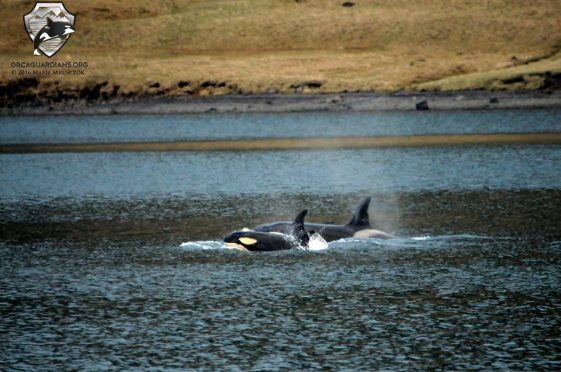 The youngest member of an orca pod which regularly visits Highland waters has been named after a public vote.
The young killer whale, which was born earlier this year, will now be known as Tide.
It was selected from a shortlist of four names which was picked by jury from Orca Guardians Iceland, Caithness Sea Watch, Shetland Wildlife and the Scottish Wildlife Trust.
They narrowed the list down to Save, Tide, Echo and Norse.
More than 1,000 people voted to select the name which was originally suggested by a group of pupils from Sunnyhill Primary School in Glasgow.
The competition was devised to end confusion about the designated names of individual orcas in the pod.
The whales live in the waters around Iceland but tend to travel south in spring passing Shetland and following the coast of mainland Scotland, possibly hunting during the seal pupping season.
Members of the pod are identifiable to researchers and scientists that survey and study the animals due to unique marking, notches and scratches. These are considered to be like finger prints once photographed and documented.
In previous years individual orcas have tended to be named by both Iceland and Scotland and this has resulted in the same whale having two different names according to where it is.
For example Tide's mother is known as Mousa in Scotland and Vendetta in Iceland.
The northern community was seen numerous times around the Shetland Isles this year and members of the pod even came as far south as the Moray coast with the new calf.
They have also been seen off the west coast at the Summer Isles by Ullapool.
Scotland's only resident orcas are the west coast community whose numbers are down to seven members following the loss of Lulu earlier this year.
They have stopped breeding and are expected to die out but it is hoped that the northern community will continue to visit Scottish waters and perhaps younger members such as the newly named Tide will one day be more regular visitors and known by the names now shared in both Iceland and Scotland.