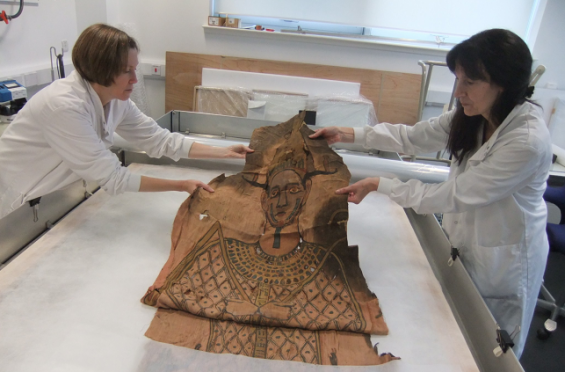 It's one of the most remarkable archaeological finds in recent years.
A unique, full-length mummy shroud, which is over 2,000 years old, yet still in remarkable condition, has been discovered within National Museums Scotland's collections.
And it will be displayed for the first time in The Tomb: Ancient Egyptian Burial, a new exhibition opening at the National Museum of Scotland on March 31.
The shroud, which dates to approximately 9BC, was unearthed by curators during an assessment of National Museums Scotland's significant Egyptian collections in preparation for a new, permanent gallery which will open at the museum in the next two years.
Dr Margaret Maitland, senior curator of Ancient Mediterranean collections, found the folded shroud wrapped in brown parcel paper.
It was accompanied by a note from a past curator in a World War II service envelope, identifying the contents as having come from an ancient Egyptian tomb. The package had been stored since the mid-1940s, unopened, unseen, but of monumental significance.
Due to the fragility of the textile, conservators gently humidified it, so the fibres would become less dry and brittle. This allowed them to carefully unfold the shroud, a process which took 24 hours.
Upon unfolding it, a hieroglyphic inscription on the shroud revealed the identity of the owner to be the previously unknown son of the Roman-era high-official Montsuef and his wife Tanuat.
Dr Maitland said: "To discover an object of this importance in our collections, and in such good condition, is a curator's dream.
"Before we were able to unfold the textile, tantalising glimpses of colourful painted details suggested that it might be a mummy shroud, but none of us could have imagined the remarkable figure that would greet us when we were finally able to unroll it.
"The shroud is a very rare object in superb condition and is executed in a highly unusual artistic style, suggestive of Roman period Egyptian art, yet still very distinctive."