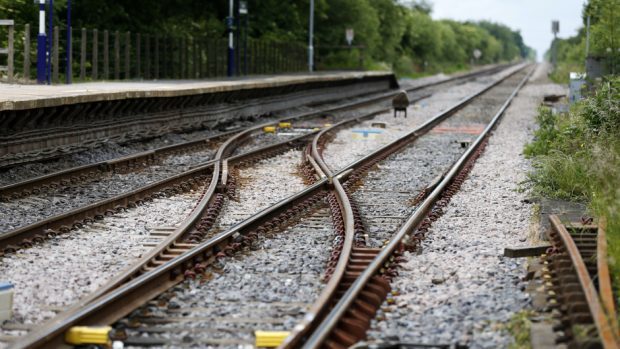 New figures have revealed more people than ever are risking their lives by trespassing on railway tracks in Scotland.
There were 710 incidents last year, compared to 492 in 2012, according to statistics from Network Rail and the British Transport Police (BTP) published today.
This number rose to 580 in 2013, fell to 536 in 2014, but increased again to 612 in 2015.
In the BTP's Aberdeen sector, which includes Aberdeenshire, there were 32 incidents last year, compared to 26 in 2012.
In the Inverness sector, which covers the Highlands, there were 25 in 2016 compared to 19 in 2012.
Research also shows young people are more likely to take a risk on the tracks, with seasonal peaks in incidents coinciding with the spring and summer holidays.
Superintendent David Marshall from the BTP said the force believed the number of children found trespassing each year was "just the tip of the iceberg".
He added: "We are urging parents and young people to heed this warning.
"It's not a game – they are real tracks, with real trains and real-life consequences."
Simon Constable, head of route safety at Network Rail Scotland, added: "It may seem harmless to take a shortcut, or fun to play on the tracks, but this is not only illegal, it is also very dangerous.
"Taking a short cut or messing around on the tracks can result in serious life-changing injuries or death."
The data, which looks at trends over the last five years, shows trespass incidents are at an all-time high in the region.
Meanwhile, across Britain one person trespasses every hour.
Highlands and Islands Labour MSP David Stewart welcomed the efforts to warn children and parents.
But he added: "The fact that there has been an increase of such incidents is very concerning, not only for the youngsters who are dicing with death, but also for train drivers and passengers if emergency brakes are slammed on to try to prevent a serious accident."
Scottish Liberal Democrat transport spokesman Mike Rumbles called the rise "deeply worrying".
He added: "It is far too easy for accidents to happen if people get themselves into dangerous situations.
"Reaching out to children in school and letting them know the risks of trespassing will hopefully reduce the burden on police and railway staff and, more importantly, save lives."
Network Rail has launched a schools engagement programme, which aims to teach children in trespass hotspots about railway safety.
For more information, visit www.networkrail.co.uk/trespass or www.btp.police.uk/realitycheck