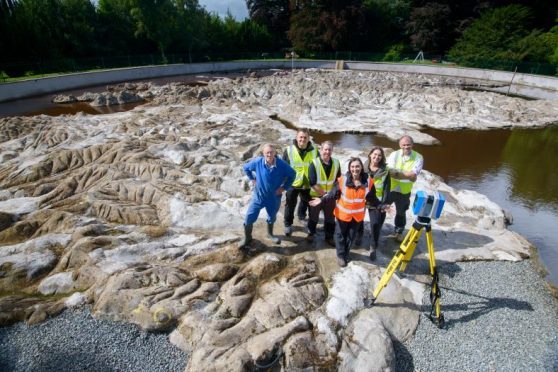 A unique artefact, celebrating the historic links between Scotland and Poland, will soon be available in digital form.
The Great Polish Map of Scotland was first devised by Jan Tomasik – a former sergeant in the Polish army during the Second World War who was stationed at Galashiels amidst the conflict.
In 1968, he bought the hotel at Barony Castle in Peeblesshire and sought to create a landmark in the ground to celebrate the links between his homeland and his adopted country.
All of 11 years later, he created a large physical relief map of Scotland sculpted in concrete measuring 40 by 50 metres.
And now, the artefact has been scanned digitally using 3D technology.
The project was led by Historic Environment Scotland (HES) and was delivered in partnership with the Scottish Government, Mapa Scotland and the Polish Scottish Heritage Group.
The work began earlier this year when culture secretary Fiona Hyslop met with Dariusz Adler, the consul general of Poland, to look at ways in which Scotland could mark the links between the countries.
Ms Hyslop visited the castle to see the physical map earlier this month.
She said: "The Great Polish Map of Scotland is a fine example of Scotland's ties and friendship with Poland and I am confident this project will help strengthen the long-standing political, cultural and economic relations between our two countries and place a huge focus on our shared heritage as we celebrate this year of history, heritage and archaeology.
"Scotland and Poland have drawn strength from each other for centuries, building strong connections and a thriving relationship. I look forward to celebrating together the centenary of Polish independence in November 2018."
Dr Lyn Wilson, digital documentation manager at HES, explained how the map was transformed.
She said: "We're delighted to have the opportunity to use our skills in digital documentation and visualisation to create a unique animation celebrating the long-established cultural connections between Scotland and Poland.
"Using accurate 3D laser scans and photogrammetry data of the Great Polish Map of Scotland, we will produce a detailed backdrop to highlight things like oral histories, archive imagery and film."