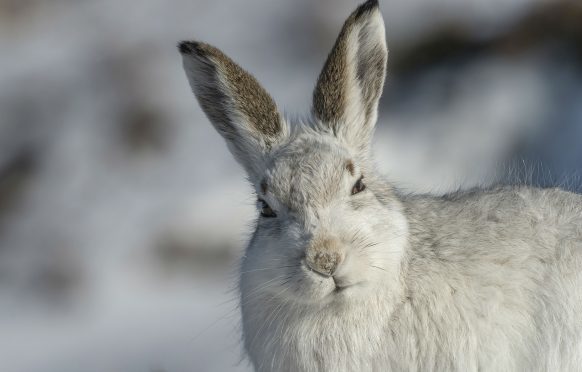 Wildlife groups have urged the Scottish Government to protect the country's mountain hare population amid fears that the animals are becoming extinct in places.
A coalition of 10 environmental and outdoor organisations has maintained the culling of the animals is continuing, despite a period of "voluntary restraint" being agreed in 2014.
The group is now renewing an appeal for Holyrood ministers to introduce urgent safeguards.
Members want a temporary ban on all mountain hare culling on grouse moors until measures are put in place to ensure the animals can remain at sustainable levels.
They claim the government is neglecting its legal duty to maintain the mountain hare population by allowing the creatures to be "routinely culled on a large scale" across grouse moors, including in the Cairngorms National Park.
Duncan Orr-Ewing, from RSPB Scotland, said: "We had serious concerns that the notion of voluntary restraint would be ignored by many in the grouse shooting industry and, with the evidence of culls continuing on many moors over the last three years, it seems that these fears have been well-founded.
"The start of the mountain hare season has already begun, meaning hare populations will continue to be put at risk by unregulated culls that we believe are resulting in localised disappearance of hare populations."
The Scottish Wildlife Trust's Susan Davies added: "Lethal control should be halted until there is accurate information on the number of hares culled, and the true effect of these culls on the health of the hare population is known."
A spokesman for the government confirmed the result of ongoing studies would determine whether "further action" was taken.
He said: "We oppose the large-scale culling of mountain hares, while recognising that mountain hare numbers do sometimes require to be controlled, for example to protect newly-planted trees.
"Scottish Natural Heritage is examining the available evidence.
"If this points to continuing high levels of culling of hares, that could cause significant population declines, locally or nationally, the Scottish Government will consider bringing forward further measures to protect them.
"We are also establishing an independent group to examine how we can ensure grouse moor management practices are sustainable and compliant with the law. We would expect mountain hare management to be part of the group's work."