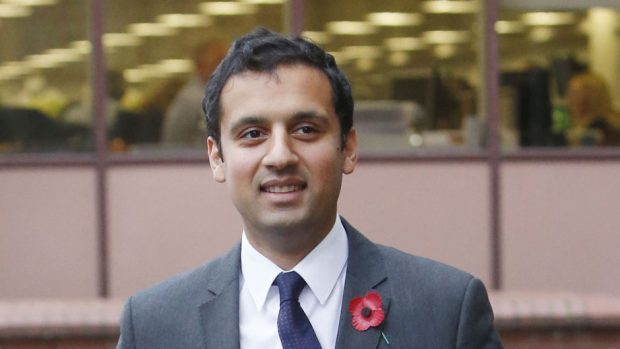 NHS Grampian has insisted that charitable donations are not misused amid calls for a nationwide investigation into the Tayside financial scandal.
Scottish Labour has said MSPs must question all health boards about their use of charity cash to ensure the practice is not more widespread.
Last week it emerged that NHS Tayside took more than £2million from its endowment fund, which is mainly used to provide patient comforts, to cover general running costs when it ran out of money in 2014.
It sparked a major shake-up of its crisis-hit leadership team, with health secretary Shona Robison intervening to appoint NHS Grampian boss Malcolm Wright as acting chief executive.
Now calls have been made to merge health boards in Grampian, Tayside and Fife into one service to improve accountability.
Yesterday Labour health spokesman Anas Sarwar said the charity cash scandal had "seriously damaged" public confidence in the NHS.
He said: "That is why it is essential all NHS boards are now called before the Health Committee to establish how this came to happen and if it is more widespread – starting with NHS Tayside.
"The public need and deserve urgent clarification from other health boards on whether any funds have been misspent elsewhere."
However, NHS Grampian stressed that its own endowment fund had not been used improperly, with every grant request meeting strict criteria.
In recent years money from the pot has been used to help pay for the refurbishment of Peterhead Maternity Unit, an eye surgery simulator and research projects.
A spokeswoman for the health board said: "NHS Grampian Endowment Fund is the charity which safeguards donations made by patients, families and users of health services.
"We are enormously grateful to the people of the north-east for their generosity in giving to this fund.
"The endowment fund has strict criteria to make sure that donations are only used to enhance the services that NHS Grampian provides.
"Everything the endowment fund supports must be for the benefit of patients. Our patients are at the heart of everything we do.
"Details of projects we have funded through our endowment fund are available on the website."
Former SNP health secretary Alex Neil has now suggested merging NHS Tayside with two neighbouring health boards.
He said the financial scandal could have been flagged up sooner if there were fewer health boards in Scotland.
The MSP has proposed that the number of territorial health boards is reduced from 14 to three to cut administrative costs and give auditors fewer accounts to scrutinise.
He said: "I think (the Tayside financial crisis) underlines the fact we have got far too many boards, so it's much easier for these things to slip through the net.
"It's time to collapse the territorial boards, get rid of the 14 territorial boards and the separate board for the Golden Jubilee.
"If I was still there that is one of the things I would be doing, because it's time for radical surgery on the bureaucracy.
"There is far too much bureaucracy, far too many layers of management, not enough emphasis on medical decision-making and too much emphasis in some cases on targets."
However, a Scottish Government spokeswoman said regional planning had been strengthened in recent months.
She said: "This will allow faster decisions to be made at a regional level and in combination with the more local decision makers allow for higher quality care for those who need it.
"The combination of national, regional and local decision making give us the best of all worlds to ensure high quality care."