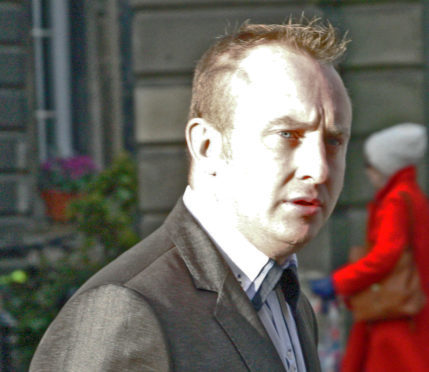 A former Polish prisoner attacked by a violent racist could be paid thousands in compensation after winning his battle against the Scottish Government.
Daniel Kaizer sued ministers – who are responsible for the Scottish Prison Service – for £900,00 after being attacked by Keith Porter at Craiginches Prison in 2009.
The government appealed against the decision to uphold his claim, but yesterday the ruling was upheld.
Mr Kaizer suffered a fractured skull after being hit with a steel barbell in the prison gym.
The 36-year-old maintained that the prison system had failed to protect him from Porter – who was in jail for the attempted murder of another Polish man – after being threatened the week before.
Mr Kaizer told prison officer Gary Lumsden about the threats, but no report was made.
Porter, 30, was serving a 15-year sentence for the attempted murder of Jaroslaw Janecak in a horrific attack with a mop handle at the time. He was later given a life sentence under an order for lifelong restriction for the second murder bid on Mr Kaizer.
Mr Kaizer raised an action at the Court of Session in Edinburgh against the Scottish ministers seeking compensation following the attack on him.
Following a hearing a judge ruled last year that they had failed in their duty of care to Mr Kaizer and were liable. A decision on how much compensation should be paid remained outstanding.
The ministers appealed against the ruling, but now the Lord President, Lord Carloway, sitting with Lord Brodie and Lord Drummond Young, has rejected the challenge.
Lord Carloway said in a judgement that Mr Lumsden's failure to report the threat in the gym constituted negligence.
He said: "That finding and acceptance carry with them an inference that the absence of a report amounted to a failure to take reasonable care for the pursuer's safety; ie that he was thereby exposed to the risk of injury.
"Where negligence is established, as it is here, and thus the existence of a risk of injury is demonstrated in the context of a prison setting.
"In which the prison authorities control the movements of all those involved, the court is entitled to make the reasonable assumption that the prison authorities will not only do something about that risk, but that the something will reduce the risk to such a level that it will, in all probability far less on a mere balance, not occur."