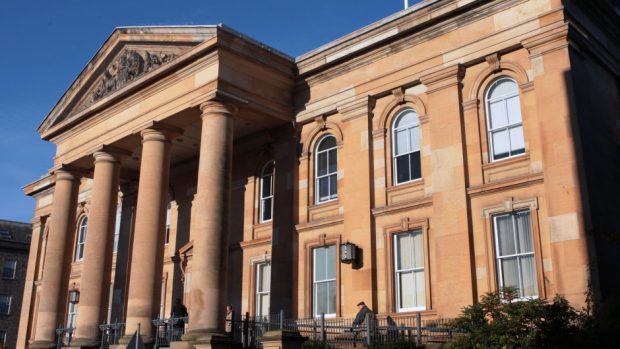 A murderer released after serving just 11 years of a life sentence was today sent back to jail – after he admitted attacking two cops sent to check on a disturbance reported at his flat.
Ian Gorthy was sentenced to life imprisonment for stabbing Richard Preston, 28, to death with a massive Bowie knife in Dundee's Blackness Road on August 12 2000.
He served just 11 years before he was released from prison in 2011 – moving back to the city where his crime was committed.
But now he is back behind bars after he lashed out at police officers sent to his home on January 28 this year to check on reports of a disturbance at the flat in the city's Court Street North.
When officers knocked on the door Gorthy went out and told them to "f*** off" unless they had a warrant.
Cops told the thug that because a disturbance had been reported they could use their common law powers to enter – prompting Gorthy to tell them: "I know the law – now f*** off."
Fiscal depute Laura Bruce told Dundee Sheriff Court that a brawl then broke out.
She said: "When he answered the door he instantly became hostile.
"He placed his hands across the front door barring police officers from entering.
"He continued to shout and swear telling them to f*** off out of the house and was trying to shut the door on officers.
"Because of his continued abuse he was informed he was under arrest.
"He then lashed out with his hands and struggled with the officers and punched constable Kenneth McLeod on the face.
"Constable David Feeney then attempted to put handcuffs on him and the accused swung his left arm towards him and struck him on the body."
Gorthy, 35, of Court Street North, Dundee, pleaded guilty to two charges of police assault, one of resisting arrest and one of behaving in a threatening and abusive manner, all committed on January 28 this year.
Defence solicitor Larry Flynn said Gorthy had initially been released on bail after his first apperance in court over the charges – but was recalled to custody on his life licence three days later.
He said: "There was a parole hearing which he lost and his earliest date of review of that is now June 2019.
"This is the first time he has been in court since he was released in 2011."
Sheriff John Rafferty jailed Gorthy for a total of 171 days from today – though Gorthy will then stay in custody until at least June 2019 when he can again apply for parole on his life sentence.
Gorthy was just 18 when he was handed the life sentence for the brutal murder of Richard Preston yards from his victim's home in Dundee's West End.
Mr Preston, a Dundee City Council gardener, was walking on Blackness Road when he was set upon by Gorthy and his friend George Williamson.
Williamson picked a fight with Mr Preston – but was unaware that Gorthy was carrying a massive Bowie style hunting knife.
Gorthy then intervened – plunging the massive blade into Mr Preston's back, severed one of the two main branches of his pulmonary artery, the main vessel carrying blood from the heart to the lungs, causing massive internal bleeding.
Pathologists said the wound was "inevitably fatal" – though Mr Preston managed to run some distance to nearby Rosefield Place where he was later found dead.
Gorthy was sentenced to life imprisonment with a minimum eight-year term following a trial at the High Court in Forfar.
Sentencing him, Judge Lord Wheatley said: "You have now joined the tragically long list of young men in the country who have acquired a knife and used it against a totally innocent stranger.
"His family will have to suffer that loss for the rest of their days and I have no doubt that your family has also been destroyed."