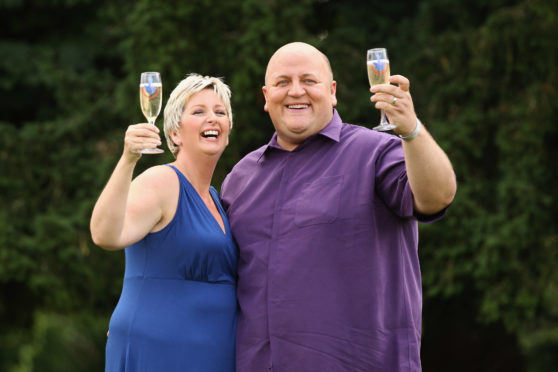 EuroMillions winner Gillian Bayford's new husband is a convicted fraudster jailed for a £13,000 Tesco scam on the same day she scooped her £148 million jackpot, it can be revealed today.
Gillian, 45, married Brian Deans, 37, last week at the Fairmont Hotel in St Andrews.
But it can now be revealed that six years ago their lives took very different turns on August 10, 2012.
That Friday night Gillian and then husband Adrian scooped an enormous £148 million jackpot when they matched all the numbers in a EuroMillions draw.
The same evening Deans was starting his first night of a six-month jail sentence in HMP Perth after admitting a £13,574.04 from his former employers Tesco.
Gillian said she was aware of his past before their nuptials on Saturday – and declined to say whether the pair had signed a celeb-style pre-nup.
Brian and his accomplice Kevin Meldrum, both 31, were both jailed for six months on August 10, 2012 after both admitted carrying out a £13,574.04 scam while working for Tesco.
Dundee Sheriff Court heard that the pair "formed a fraudulent scheme" to carry out bogus customer refunds and pay them into their bank accounts from the Tesco Extra store in Dundee's South Road and the supermarket giant's call centre in Baird Avenue.
The repeatedly accessed computer systems operated by the firm that stored details of customer orders and accessed those records.
The pair would then amend those orders to generate refunds that had not been sought by the customers or authorised by Tesco.
They would then use the system to pay the refunds in to their own bank accounts – obtaining the £13,574.04 over a period of four months from June 1, 2011 to September 30, 2011.
Sheriff George Way said the pair had started the scheme to alleviate debt issues they faced.
Deans – who also has a previous conviction for drink driving from 2001, for which he was fined £300 – and Meldrum were jailed for six months each.
Sentencing them, the sheriff said: "For reasons that seemed good enough to you, one as a result of debt, the other, debt created by gambling, you decided to participate.
"This was not a crime of impulse or desperation. Once you settled into it you admitted it became attractive. Losses to Tesco are losses to the Government and to us in terms of the prices Tesco charge. We're all victims of this."
It is understood Brian has gone straight and now renovates properties for a living.
Gillian, of Newport-on-Tay, Fife, said "I don't zip up the back" when asked about her knowledge of her new husband's criminal past.
Speaking to The Scottish Sun, she said: "I don't have a massive zip up my back. I've known from the very beginning and it doesn't bother me.
"Everyone has a past but you can't live in the past. You've got to move on.
"It was six years ago and he's been punished for being silly. He can't be made to suffer for the rest of his life."
Brian and Gillian were friends for a couple of years before bumping into each other on different nights out in Broughty Ferry.
Gillian said there was a "click" and they started dating.
But she insisted the romance would have gone no further if her new man didn't get the seal of approval from her kids.
The former hospital assistant, who has changed her surname to Bayford-Deans, said: "My children are the most important people in my life.
"They had to be okay with everything because I wasn't just getting married, I was bringing someone new into the family.
"I wouldn't have got married if they weren't with me. I had to have their agreement and approval.
"Brian is absolutely wonderful with them and they like him.
"From the start, Adrian and I said the priority was making sure there was always enough money for the children. It's important they continue to have the same lifestyle they're used to.
"No matter how many relationships we get involved in, the main priority has to be the children and ensuring they are comfortable."
Speaking about their quickfire wedding, Gillian said: "This was completely different to my first wedding. I married a totally different man and I've got a very different life now.
"People say it's a whirlwind but we've been friends for a long time.
"We're not rushed into anything and we've not hidden anything. We're just private people.
"Sometimes you just know when things are right and this felt right. We are all very happy."
But despite her millions, the lovebirds have snubbed a lavish honeymoon in favour of a family holiday with the kids.
She added: "I won't say where we're going but it's out of Scotland and it's somewhere hot."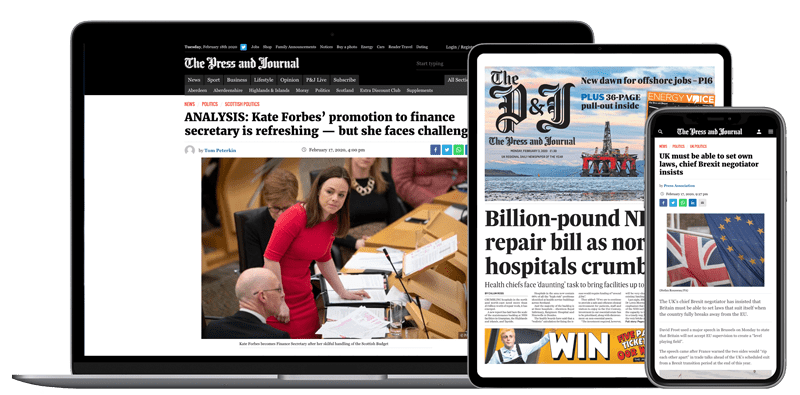 Help support quality local journalism … become a digital subscriber to The Press and Journal
For as little as £5.99 a month you can access all of our content, including Premium articles.
Subscribe