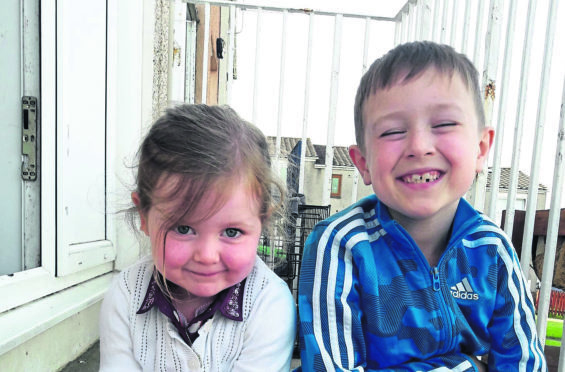 An eight-year-old waiting for a blood stem cell donation has finally found a match – his little sister.
Michael Gartshore is fighting a rare and potentially life-threatening condition called aplastic anaemia, a blood disease where all three blood cell types are deficient.
It means the condition can cause Michael to bleed uncontrollably and increases the risk of him picking up infections.
The youngster previously went through two blood transfusions a week but now he is taking a step in the right direction by getting platelets, which help form clots, every other week.
Michael was diagnosed with the condition in April and his family have been waiting since then to find out if his three-year-old sister, Charlotte, is a potential match for a blood stem cell donation.
Now they have been told that Charlotte could potentially save her brother, as she is an exact match.
Mum Tracey, from Rosyth, Fife, said: "Although she can be used as a donor, there will be extra risks attached to it meaning they both could get ill.
"At the news we were glad for Michael but terrified for Charlotte.
"She's only three and it's scary being told that you have to put an additional child at risk to save the first one that fell sick.
"It's a no-brainer – it saves Michael's life but it's also horrible for Charlotte as she's to go through her own journey now."
As Charlotte is so young, Michael will also be at risk because her immune system has not been exposed to the CMV virus her brother has.
This means that if Michael has the stem cell transplant, he will have a completely new immune system, which, combined with the chemotherapy that forms part of the treatment, makes him even more vulnerable to viruses.
However his mum revealed that doctors were "encouraged" that his haemoglobin levels are holding at a normal level, which could mean something is changing in his bone marrow – perhaps even sparing him from the transplant.
The 32-year-old said: "If Michael can recover without a transplant then it's the best outcome but sadly this might not pan out."
In the meantime, they hope Michael will be able to get to school part-time to be with his friends. To follow Michael's journey, or support the family-of-six, visit www.gofundme.com/wee-michaels-journey