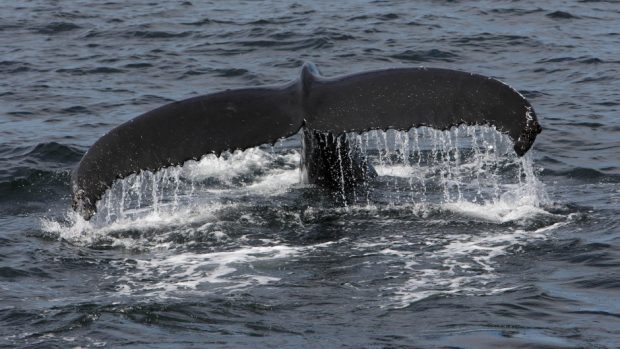 An investigation has been launched into the mysterious deaths of more than 10 whales.
Leading cetacean body Whale and Dolphin Conservation (WDC) said many of the animals found in Scotland were a deep-diving species, Cuvier's beaked whales.
It suspects military activity may be the cause of the strandings, but this was denied by the Royal Navy.
Both the UK and Scottish government have asked experts to look into the deaths following concerns raised by the conservation charity.
The UK's Department for Environment, Food and Rural Affairs (Defra) has commissioned the Cetacean Strandings Investigation Programme to carry out "a full and thorough investigation".
The Scottish Government said the Inverness-based Scottish Marine Animal Strandings Scheme will look into the Scottish strandings.
It said it took its duty to protect "Scotland's iconic marine life extremely seriously", and will consider any findings carefully.
Environmental campaigners claim the military should investigate why so many rare deep-diving whales are dying along the Scottish and Irish coasts.
Six Cuvier's beaked whales have been found on North Uist, South Uist and Islay in the Hebrides this month.
A mass stranding of at least six whales from Co Donegal, Mayo, Co Galway and Co Sligo has also been reported over the same time frame.
Cuvier's beaked whales live in the deep waters off the west coast of the British Isles in the North East Atlantic ocean.
Sarah Dolman, WDC policy manager, said: "We know very little about their distribution or the numbers that live out there.
"Cuvier's beaked whales can dive to great depths, of about two miles, and they spend much more time at depth than they do at the surface.
"Sound travels well in deep water and very loud sounds, like active sonar, may frighten whales to the surface too quickly, leading them to suffer decompression-like symptoms, similar to divers. This can kill them.
"It needs to be determined what human activities were occurring offshore, including military, during that time period.
A spokesperson for the Royal Navy has said: "There is no evidence that the deaths of these marine mammals have been attributed to any Royal Navy Sonar operations, trials or exercises.
"We take our environmental responsibilities very seriously and continue to work with the relevant UK authorities to reduce any environmental risk."