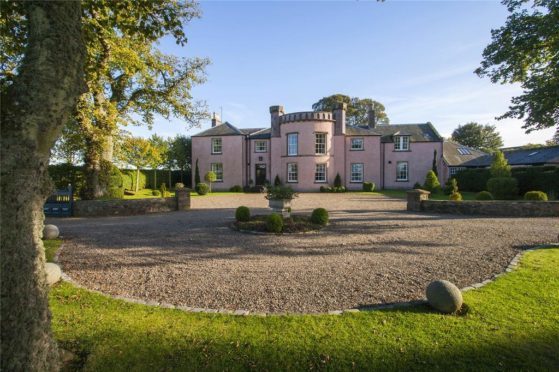 A "remarkable collection" of antiques and artwork from a historic mansion will go under the hammer next week.
More than 500 lots from Kirkton House, near Montrose, will be auctioned off in Edinburgh with the most sought-after items expected to sell for as much as £30,000.
The lavish six-bedroom property, which was built in 1804 as a manse for the nearby Craig Church, has been put on the market at an asking price of £670,000.
A sculpture by Sir Frederic Leighton, who is recognised as one of the pioneers of the new English sculpture movement, has been estimated to fetch between £20,000 and £30,000 at the sale on Wednesday.
And a painting of a fishing boat, by Scottish artist George Leslie Hunter, could sell for between £10,000 and £15,000.
A piano crafted by Charles Robert Ashbee is tipped to fetch between £8,000 and £12,000 while a landscape painting showing a view of the Grampians from Montrose, by James Morrison, could go for £5,000.
A sculpture of St George, carved by Gilbert Bayes and unveiled in 1920, is expected to sell for as much as £18,000.
It is thought to be one of only three in existence.
The owners of the house, who wished not to be named, said it is time for their collection to be "enjoyed by others".
They said: "We have enjoyed living with every single item in the house, each of which has been chosen very carefully over the years for a certain room or place.
"As you get older you realise that you are merely custodians for a short time, and we have decided to sell it to make our lives much simpler.
"Our hope is that they give the next owners as much pleasure as they have given us over the years."
Director at auctioneer Lyon and Turnbull, John Mackie, said: "The house contains a remarkable collection, which demonstrates the owner's interest in predominately British art and more especially the art and design of the late 19th and early 20th centuries.
"The collection follows the arc of 19th century design history."
Kirkton House sits south of Montrose and boasts views down to the Montrose Basin and over to the Grampians.
The neighbouring landscape is represented in the collection with watercolours and oils by local artist James Watterston Herald revealing views of Montrose, Arbroath, Forfar and Aberdeen.