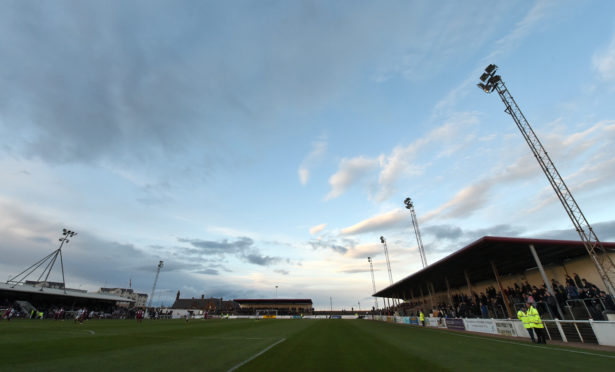 A man will be reported to the procurator fiscal after a drone was flown over the Arbroath v Montrose derby at Gayfield on Saturday.
Police say the drone was flown "for some time" over the pitch, as well as nearby locations during the hotly-contested match between the Angus rivals.
Match officials alerted Lichties staff to the flight and were prepared to stop the game on safety grounds but officers from Police Scotland quickly traced the pilot.
Safety Officer for Abroath FC, Ewen West said: "We were made aware of the drone, and worked with the police to deal with the incident.
"The safety of everyone inside the stadium is of paramount importance to us, and we will continue to offer any assistance necessary."
Arbroath East and Lunan Conservative councillor Derek Wann was at the match and saw the drama unfold: "The drone was flying at quite low altitude for some time from around halfway through the first half and into the second half.
"It wasn't dangerously low, but there is no question that if it lost power, then it was certainly coming down on the pitch.
"I think most of the spectators will have seen it, and it certainly caused disruption, as well as being distracting.
"I've seen fantastic footage captured from drones, but with almost 1,300 people in the stadium, this is an entirely different situation."
The use of drones is covered by Air Navigation Order 2016, which states that the pilot must not fly over or within 150 metres of a congested area, or over or within 150 metres of an organised open-air assembly of more than 1,000 persons, except where the permission has been issued by the Civil Aviation Authority.
Angus Local Area Commander, Chief Inspector David McIntosh, said: "Flying drones without the appropriate training, experience or license can be hazardous, no more so than over a crowded area such as a football match or concert.
"A loss of power or signal to the drone can have a significant impact and cause injuries to others.
"Drones that are used at events have the appropriate license and are used in the full knowledge of the organiser and events planning team to ensure the safety of others.
"Any person using a drone irresponsibly could be arrested, but will certainly have the drone confiscated and the circumstances will be reported to the Procurator Fiscal.
"If you have a drone, or are planning to buy or use one, please make yourself familiar with the appropriate legislation, and use the equipment safely and sensibly."