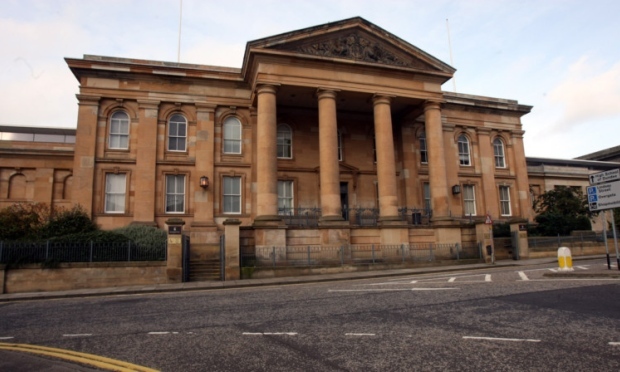 Vigilantes who targeted a sex offender caught by an online paedophile hunter group may have made him more of a danger to the public, a sheriff said today.
A sheriff made the comment as he jailed Ross Ottaway for 15 months after he was caught by the Creep Catchers group online sending sick sex messages to a girl he thought was 13.
Ottaway – who has a learning disability – was hounded out of his home in Dundee and forced to stop a treatment programme involving social workers and psychologists imposed for an earlier offence because of the threats.
Today he was jailed after a sheriff ruled that was the only way Ottaway – who was at the time on a community payback order imposed for showing porn to three kids under the age of 12 that he was babysitting – could be dealt with.
But the lawman said "misguided" vigilantes who had targeted Ottaway had "likely led to the failure of a programme designed to protect the public in the long run" from the "risk he presents".
Ottaway, who is blind in one eye after being attacked by the father of one of the kids who showed adult videos to in 2013, appeared for sentence today at Dundee Sheriff Court after he contacted a fake Facebook profile – under the name Zoe Warner – almost immediately after it was created by a paedophile hunter group.
The woman behind the profile told Ottaway she was "nearly 13" – with him then asking for her address so he could send a birthday card.
Fiscal depute Saima Rasheed told Dundee Sheriff Court that Ottaway then asked for pictures of her "naked and in her school clothes".
Ottaway then went on to give the woman his own home address and asked her to sendnaked pictures of herself to him by post.
The group then travelled to Ottaway's Dundee home to confront him after he claimed his 12-year-old neighbour had sent him images and that he had "shown her how to do it".
Miss Rasheed said: "He was confornted and was asked to account for his actions.
"This was filmed using a body mounted GoPro camera and was streamed live on Facebook.
"The police were then informed and provided with details of the accused's conduct."
Ottaway, 37, Arbroath, pleaded guilty on indictment to sending sexual written communications to someone he believed to be a child aged under 16.
The offence took place between July 8 and July 30 last year at an address in Kirk Street, Dundee.
Defence solicitor Anika Jethwa said: "He suffers from a learning disability.
"He was placed on an order in 2015 for the earlier conviction but that was breached in 2017 as a result of this new offence.
"At the time he was living with his mother and after this they were targeted by various individuals.
"His mother had lived there for 22 years and had to leave that property and was homeless for 13 years."
Sheriff Alastair Carmichael jailed Ottaway for 15 months and placed him on the sex offenders register for 10 years.
He said: "After his first court appearance there was vigilante interest in his whereabouts and he had to be rehoused away from where he had been living.
"Only once he was rehoused could meaningful treatment resume.
"The conduct of these misguided people caused that.
"His attendance at a support unit had to be again withdrawn from March 2018 due to threatening behaviour towards him while he was being transported to and from it.
"Again, the effectiveness of the community payback order was adversely impacted by the conduct of these misguided people.
"It may be an unintended consequence that the work carried out by criminal justice social workers and psychologists was interrupted, which was designed to lead to a reduction in the risk he presents.
"These misguided actions have likely led to the failure of a programme designed to protect the public in the long run.