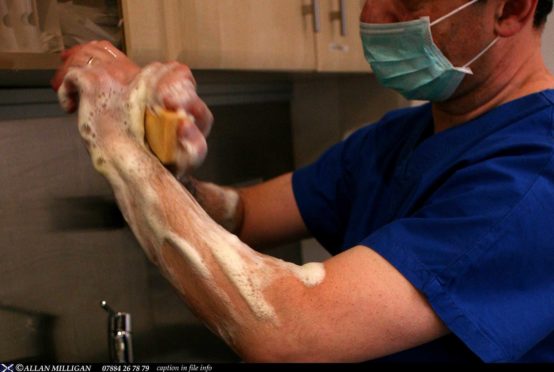 The NHS has not had to discipline a single Scottish hospital worker for failing to wash their hands in the last two years.
The surprising figures followed official stats showing a rising number of healthcare-related E.coli cases and, in some health boards, increases in the number of people being diagnosed with C. difficile.
According to data obtained by The Press and Journal, the last time any NHS worker in Scotland was punished for flouting hand washing rules was in June 2016 when "fewer than five" staff in the Borders were chastised.
While some people have said the low numbers are proof of rising standards in the country's hospitals, others have suggested the stats may not show the full picture.
Outbreak fears as thousands of health staff turn down flu jabs
Last night MSP Alexander Burnett said it was "hard to believe" the findings and urged health boards to ensure their records on the topic are accurate and comparable.
The Aberdeenshire West MSP said: "It would be helpful to know what checks are in place for keeping track of hand-washing by staff.
"In particular, are there differences between what happens in the Borders and in other health board areas?
"This is an important issue, and we must make sure these figures are reliable."
Meanwhile Jamie Weir, a former NHS Grampian board member and now spokesman for its patient group Pact, said the fact no-one has been disciplined in two years is "very reassuring".
At the same time however, he warned against staff complacency and the consequences that may arise as a result of it.
"The availability of gels, sinks and hand hygiene areas has significantly risen over the last few years and all staff as well as patients and visitors are now much more aware of the risks of infection within hospitals than before," he said.
"I am also certain that the education and monitoring procedures in place are sufficiently robust.
"However, it is essential that continued vigilance is maintained as infection is a significant risk to patients and staff in hospitals – and continued education and monitoring of hand-washing will reduce the likelihood of infection transmission."
Staff screened at ARI after porter diagnosed with contagious illness
A spokeswoman for NHS Grampian said it takes all infection control precautions "extremely serious," adding that all of its staff are expected to carry out regular training and are frequently audited to ensure the procedures are followed correctly.
Similar policies are mandatory in all hospitals and were highlighted prominently in May when Health Protection Scotland backed the World Health Organisation's Save Lives: Clean Your Hands policy aimed at reducing the number of sepsis cases.