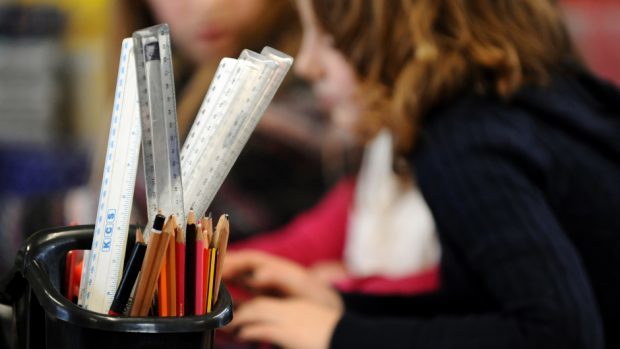 Fife Council has become the first local authority to scrap the Scottish Government's controversial primary one assessments.
SNP councillors failed in their bid to see Scottish National Standardised Assessments (SNSA) retained in the region after being outvoted by 41 to 26.
It means there will be no SNSA tests, where children complete online exercises alongside a teacher to assess numeracy and literacy, from the start of the next academic year.
Instead, primary one pupils will be tested using the Performance Indicators in Primary Schools (PIPS) method previously used in Fife.
All other political parties voted to withdraw SNSA – with the landmark decision also marking the first time there has been a major split between SNP and Labour in the power-sharing council administration.
Opponents of SNSA had been accused by SNP councillor Alistair Suttie of trying to "deliver a bloody nose to the Scottish Government" after MSPs voted in parliament to halt the tests.
But Labour co-leader David Ross, who lodged the successful motion to scrap the tests, denied it was a political move and said teachers, parents and unions backed PIPS.
He said: "I think there are different views on different sides but there is certainly a balance of opinion that says this is the wrong approach.
"I do not particularly care what has gone on in the Scottish Parliament around this, but when teachers, parents and unions come to us and our experience is that what they're telling us is this is not the right approach, then we need to take notice of that."
It was the fourth time Fife councillors had discussed primary one testing at committee, with challenges and appeals leading to votes both for and against retention of SNSA.
Yesterday, Councillor Kathleen Leslie, education spokesperson for the Fife Conservative group, said she was delighted at the outcome.
"The evidence is overwhelming. These assessments are educationally flawed and potentially damaging to such young children," she said.
SNSA will still be used for children in primaries four and seven, and third year of secondary school.
Council leaders in Aberdeen have previously stated their intention to scrap the controversial tests – despite the step taken by Fife, they say they will await the outcome of a national review.
A spokesman from the Conservative, Aberdeen Labour and independent administration said: "The matter is still very much under consideration and we are analysing the decision in Fife before taking our next steps."