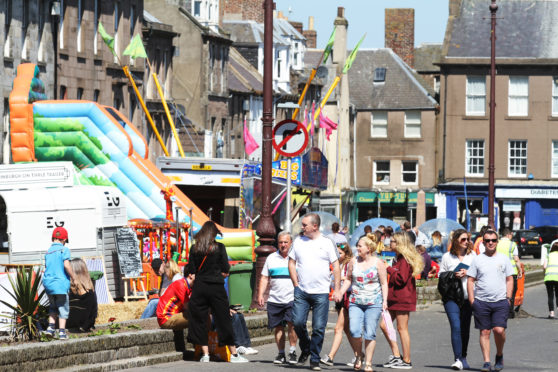 Montrose Music Festival bosses have pledged it's not the end despite the plug being pulled on next year's bash.
The event – which has brought the likes of Status Quo, Madness, Bryan Adams and the Beach Boys to the Angus town – will not go ahead in 2019, with a lack of volunteers being blamed for the decision.
The volunteer committee which has run the festival since 2008 has promised to "step back, regroup, look at what makes our festival great and come back stronger in 2020".
Scottish funk heroes the Average White Band opened the first festival to a sell-out crowd in Montrose Town Hall and since then, it has become an established fixture on the Scottish music scene.
Every year the event includes around 200 bands, performing in various locations around the town, almost all free of charge.
A MoFest spokesperson said the decision to cancel next year's festival was not taken lightly and the committee were 'very aware that many, many people will be disappointed by this news'."
He said: "Montrose Music Festival has been run by a small number of volunteers for 11 years.
"Since its inception in 2008, Mofest has stuck to one goal – providing high quality, free live music, supported by a ticketed 'big name' headline act.
"Every penny that has been made from ticket sales has been reinvested into the running of the festival, which has allowed it to grow to become one of the biggest free music festivals in the country and a major part of the Angus calendar.
"We are all immensely proud of what Mofest has become, thanks to the work of volunteers past and present.
"Unfortunately, we have been unable to attract enough volunteers to make a 2019 event possible. But we are determined that this is not the end for Mofest."
Concerns over the event's long-term future first emerged in 2017 after spiralling costs prompted a fundraising drive to keep it going.
There was no outdoor gig at this year's event following booking difficulties caused by the BBC's Biggest Weekend show in Perth taking place on the same dates.
Montrose SNP councillor Bill Duff said: "I'm disappointed that the MoFest committee will not be running the festival in 2019.
"Since 2008 it has put Montrose and Angus on the map and brought many visitors to the town.
"I'm hoping that it will return reinvigorated in 2020."
Angus Conservative MP Kirstene Hair said: "This is a real shame for Montrose. MoFest gives Angus a real buzz when it is on."